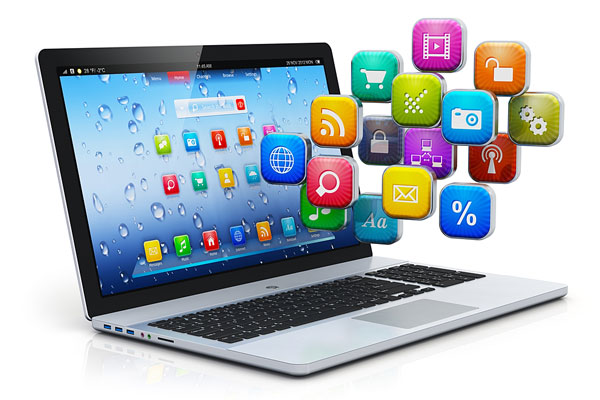 Laptop Computer With Color Application Icons
Links
Adobe
- http://www.adobe.com/
This is the site for the award-winning software that is used by businesses, for entertainment, and personal communications. The site has information on the company, and information about products, support, and technology problem solutions.
Atlassian Software Systems
- http://www.atlassian.com/
Atlassian, an Australian company, is a global software company that has 7000 customers in over 87 countries. Their mission is to respond rapidly to customer needs and they have a reputation for excellent service. Their four main products are JIRA, Confluence, Bamboo, and Crowd all of which are management tools and thoroughly described on the website.
Avid
- http://www.avid.com/
Avid is a developer of digital media creation tools. The products are used in film, animation, video, games and more. Their software is also used in classrooms, forensic specialists, and government. The website describes all of the products in detail and also information about acquiring it. There are also blogs and forums where customers and potential customers can discuss the products.
Boost C++ Libraries
- http://www.boost.org/
Boost Libraries are a series of peer-reviewed, open source libraries that are intended to extend the usefulness of Boost C++ software. Boost++ users can find support on the Boost Users mailing list. Developers can find guidelines for submitting their ideas for using Boost.
Computer Software Makers
- https://mfg.regionaldirectory.us/computer-software/
Directory of computer software developers that are located throughout the United States. Each software developer entry includes its company name, city, state, and zip code, as well as its county, phone number, and website link.
Ex Libris
- http://www.exlibrisgroup.com/
Ex Libris, which began in 1980, is a pioneer in the field of integrated software solutions for libraries and information centers. Its product line is available in 20 languages and there are support branches in 25 countries. The company has formed "user groups" to help with software updates and developments. On the site is a bibliography of articles that refer to or discuss the Ex Libris products.
FileMaker
- http://www.filemaker.com/
FileMaker, founded in 1998 with headquarters in California, is a widely-used database manager. It is a subsidiary of Apple, Inc. It is used by individuals, businesses, education, and government to manage projects, people, and assets. 49 of the top 50 Universities use FileMaker. The website contains full information about products, ordering, and support.
Ghostscript
- http://www.ghostscript.com/
Ghostscript is a copyrighted software package that interprets Postscript language and converts it to other formats. It can do the same with PDF files. It is written entirely in C and can run on a variety of platforms. There is a version of the software is free. Information about that and obtaining Ghostscript is on the website.
JavaWorld
- http://www.javaworld.com/
Written by Java experts, JavaWorld.com offers online tutorials for using Java, downloadable Java code, a forum in which users can trade ideas and discuss problems. The website also contains news and reviews of products, forums that provide tips for new and old users, and job listings.
K Desktop Environment
- http://www.kde.org/
KDE, founded in 1996, is a network transparent contemporary desktop environment for UNIX workstations. KDE can be used as a user desktop or as a development platform for applications. Since its development, KDE has received numerous awards. The website describes the software and how to download it, along with information about meetings of the Organization, publications, and more.
Linspire
- http://www.linspire.com/
Linspire, in business since 2001, delivers an easy desktop Linux to general computer users, enthusiasts, and hobbyists. The website describes Linspire products, where to purchase them, and how to buy computers with the software preinstalled. Also on the site are latest news and testimonials.
Linux Journal
- http://www.linuxjournal.com/
The Linux Journal, first published in 1994, covers the Linux community. It contains general information about the system, editorial comment, advertising, and distributors/retailers. The Journal helps readers find hardware, software, and services, and features articles for new users and professionals. Readers are generally primary professionals who need to make purchasing decisions.
Linux.com
- http://www.linux.com/
Linux is a computer operating system which has some similarities with UNIX. Linux does not run on Windows without such programs as WINE which makes the switchover. The website describes Linux and how it works, articles, and a forum for interactive discussion.
Mandriva
- http://www.mandriva.com/
Mandriva, founded in 1998 and with main offices in France, U.S. and Brazil, is a company that results from the merger of several open-source software projects. Its key product is the Mandriva Linux distribution, which is available in individual user formats and for enterprises. There is also a free version. The website describes its products and how to obtain them.
MathWorks
- http://www.mathworks.com/
MathWorks, a Natick, Massachusetts company founded in 1984, is a leading developer and supplier of software for technical computing and Model-Based design. They have over a million customers in 100 countries in technology companies, government research labs, financial institutions, and more than 3500 universities. The website describes the products, events where they can be seen, news, and more.
MySQL
- http://www.mysql.com/
MySQL is a database management system developed in Sweden. The website describes the product and its connection to LAMP (Linux, Apache, MySQL, PHP/Perl/Python) and how to order the system.
NetBSD
- http://www.netbsd.org/
The Organization is an international effort to produce a freely available and redistributable UNIX-like operating system. NetBSD also contains a variety of other free software, including 4.4 BSD Lite from the University of California, Berkeley. The website explains their products, how to download, support, and how to make donations to the project.
Novell
- http://www.novell.com/
Novell began in 1979 in Utah as a hardware manufacturer. Today the company produces identity, security and systems management software; Linux servers and Linux desktop, and workshop collaboration tools. They also offer services and training, plus help with migrating from other systems and upgrading. There are also blogs on which customers can share ideas and problems.
Open Office
- http://www.openoffice.org/
Open Office's mission is to create the leading international office suite that will run on all major platforms and provide access to all functionality and data through open-component based APIs and and XML-based file format. Sun Microsystems sponsors the development of Open Office. Full information about the suite and how to acquire it on the website.
OpenBSD
- http://www.openbsd.org/
OpenBSD is a free, multi-platform 4.4BSD-based, UNIX-like operating system. OpenBSD is freely available from their FTP sites or in an inexpensive 3-CD set. Money for the Organization is raised by selling t-shirts and CDs, or by donations.
Oracle
- http://www.oracle.com/
Oracle is the world's leading supplier of software management and the second largest supplier of software. The Oracle database consists of a collection of data, all managed by Oracle software. Purchasing the software and installation information are on the website.
Program URL
- http://www.programurl.com/
Program URL calls itself the "ultimate software resource site." It is organized by type of software, such as desktop, developer tools, education, etc., and by utility need, such as operating systems, home and personal, etc. Within each category are links to appropriate providers. There is also an up-to-date listing of new software products.
PTC
- http://www.ptc.com/
PTC, founded in 1985, is in the business of product development. They provide Product Lifecycle Management (PLM) and Enterprise Content Management (ECM) software to companies. The website describes their products and the types of solutions they can provide by industry size and type. There is also a section on services and training, a resource center, white papers, a store, and more.
redhat
- http://www.redhat.com/
Redhat is a trusted provider of Linux and open source technology that began in 2003. They work with small and medium sized businesses as well as educational, telecom, financial, government and more large organizations. The website describes its products, support, training, success stories, and information about events where the products can be seen.
SAP
- http://www.sap.com/
SAP is the largest European software company, located in Waldorff, Germany. It has more than 38,000 clients worldwide. It provides solutions to businesses of all sizes with programs such as Enterprise Resource Planning, Business Information Warehouse, Customer Relationship Management and much more, all described and supported on the website.
SAS
- https://www.sas.com/
SAS is a leader in business intelligence and predictive analytics software. SAS software is used in many types of business, and the products and services include such things as activity-based management, drug development, performance management, and more. The website describes the products and services along with news and white papers.
Software & Information Industry Association
- http://www.siia.net/
SIIA is the principal trade association for the software and digital content industry. Its mission is to promote and protect the software industry and to provide information to the industry. Users can become members on the website and learn about membership benefits. The website contains information about products, events, programs, and recent news.
Synopsys
- http://www.synopsys.com/
Synopsys, founded in 1986 and located in California, delivers semiconductor design software, intellectual property (IP), design for manufacturing (DM) solutions and professional services that companies use to design systems-on-chips (SoCs) and electronic systems. The website has links to problems and Synopsys solutions, information about training and support, and more.
VersionTracker
- http://www.versiontracker.com/
Version tracker began as an online was to keep track of the latest updates and developments with software releases for the mac platform. Today it covers both PC and mac platforms. Users can customize the program so that they see updates on the software they actually use. There are now over 100,000 subscribers. Users can find out about subscribing and details about the software on this website.
WinZip
- http://www.winzip.com/
Winzip is a file archiver and compressor for Windows. It zips and unzips files to conserve disk space and greatly reduce e-mail transmission time. Winzip was purchased by Corel. The website describes the products and support and gives information about purchasing and downloading.
Zendesk.com
- http://www.zendesk.com
Zendesk help desk and support software can help keep everyone in the loop. Support agents and customers can be copied on tickets, and stakeholders can be allowed to join in publicly or privately. Vendors can also enable customers to share Zendesk tickets within their organizations.
This is the Computer Software subcategory of the Industry category. Our editors have reviewed these web pages and placed them on this Computer Software page.