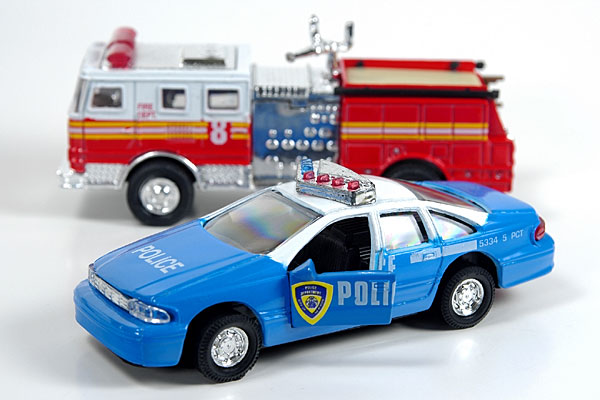 Fire Truck And Police Car
Links
British Safety Council
- http://www.britsafe.org
British health and safety organization. The main aim is to keep people as healthy and safe in the workplace as possible. The specific areas that the organisation covers include occupational health and safety and health safety risk assessment as well as health and safety regulations and workplace health and safety. As well as commercial activities, BSC also run charitable initiatives.
National Fire Protection Association
- http://www.nfpa.org/
Established in 1896 and located in Boston, the NFPA serves as the world's leading advocate of fire prevention and is an authoritative source on public safety. NFPA provides and advocates consensus codes and standards, research, training, and education. Users can find out how to join the NFPA, look at the products they sell which include up-to-date fire safety products, educational items, and more.
National Highway Traffic Safety Administration
- http://www.nhtsa.gov/
The NHTSA, a branch of the Dept. of Transportation, has as its mission to save lives, prevent injuries, and reduce economic costs due to road traffic crashes. They do this by spearheading research into road and vehicle safety, setting a national road safety agenda, and acting as a catalyst for addressing highway safety issues. The website contains information about NHTSA, laws, safety, and more.
National Safety Council
- http://www.nsc.org/
The NSC, founded in 1913, is a non-profit, non-governmental, international public service organization dedicated to protecting life and promoting health. Their mission is to educate and influence society to prevent accidental death or injury. The website has information on first aid, products and services, training, resources, news, and more.
NSF International
- http://www.nsf.org/
NSF International, the Public Health and Safety Company, was founded in 1944 as the National Sanitation Foundation. It is a nonprofit, known for developing standards, product testing, and certification services in the areas of public health, safety, and protection of the environment. Products that have been tested and certified carry the NSF label. More information about their work on the website.
Privacy Rights Clearinghouse
- http://www.privacyrights.org/
The PRC, established in 1992 in San Diego, is a nonprofit consumer organization with a two-fold mission: consumer information and consumer advocacy. The website offers fact sheets on a number of issues concerning privacy rights, a hotline number to report abuses, medical records, background checks, special information for reporters, and information for legislators and policy makers.
Safety News - Personal Safety and Public Safety
- https://www.safety-news.org/
Browse safety news headlines and summaries from selected news sources, read the referenced safety news articles, and stay up-to-date on current trends and developments relating to personal safety and public safety.
U.S. Customs and Border Patrol
- http://www.cbp.gov/
CBP operates under the Dept. of Homeland Security. It employs 41,000 people to manage, control, and protect the Nation's borders, at and between the official ports of entry. The website contains history, news, import and export information, travel and more. Also on the site is a graphic that tells what the current alert level is.
This is the Public Safety subcategory of the Society category. Our editors have reviewed these web pages and placed them on this Public Safety page.