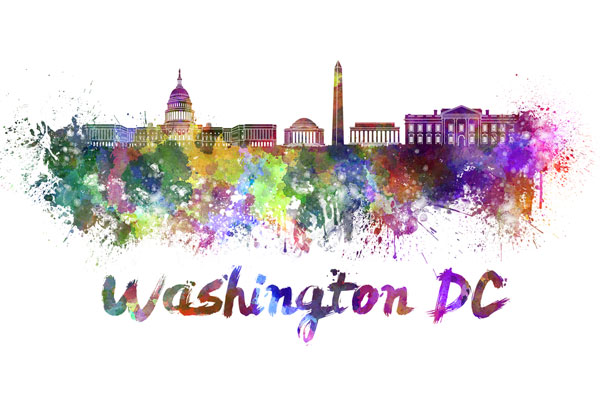 Washington, DC Skyline - Watercolor Painting
Links
District of Columbia
- http://www.dc.gov/
Learn about Washington, DC government operations, services, and departments. Whether you are visiting, living, working, or doing business in DC, you will find extensive information resources about the District of Columbia on this site.
The White House
- http://www.whitehouse.gov/
This is the official website of the White House. On the site are information about policies and issues that concern the citizens and the President. There is also information on how the U.S. Government is organized, links to the First Lady, Vice-President, and his wife, and information about visiting.
Washington DC - Official Tourism Site
- http://www.washington.org/
Founded on July 16, 1790, Washington DC is unique among American cities because it was established by the Constitution of the United States to serve as the nation's capital. Destination DC is an organization that manages and markets Washington, DC as a global convention, tourism, and special events destination, with a special emphasis on the arts, cultural and historical communities.
Washington DC Maps
- https://www.washington-dc-map.com/
This Washington DC travel guide includes a map of metropolitan Washington DC as well as maps of the National Mall's eastern and western sections. Website visitors will find descriptions of major attractions.
Washington Metropolitan Area Transit Authority
- http://www.wmata.com/
This is the website for the Washington D.C. Metro. Users can find maps and stations, schedules and fares, alerts and advisories, and more. There is also a destination finder which allows the user to put in beginning and ending destinations and find out how to get there. There is information for visitors, a Metro shop, and news about the Metro.
Washington News Reports
- https://www.local-news.us/washington.php
This Washington news page comprises recent news headlines, summaries, and article links about the city of Washington, DC, drawn from a cross section of news sources.
This is the Washington DC subcategory of the US Cities category. Our editors have reviewed these web pages and placed them on this Washington DC page.