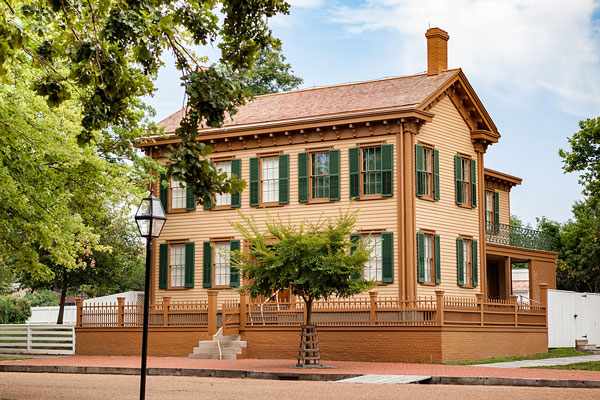 Abraham Lincoln House - Lincoln Home National Historic Site
Links
DePaul University
- http://www.depaul.edu/
DePaul, located in Chicago, was founded in 1898 by the Congregation of the Mission religious community and remains the nation's largest private Catholic University in the country. There are over 23,000 students and 1521 faculty members. It has been ranked #1 in the "Happy Students" category by the Princeton Review. Application procedures and more information about the school available online.
(IL Education)
Illinois Cities
- https://www.city-maps.us/illinois.htm
This alphabetically-arranged list of major Illinois cities provides convenient access to each city's interactive map, current weather conditions, and demographic information.
Illinois State Maps
- https://www.illinois-map.org/
Read about the geography and natural features, as well as the cities, highways and airports in Illinois. View the road maps, relief maps, and topographical maps of Illinois.
Illinois Travel Agencies
- https://travel-agents.regionaldirectory.us/illinois.htm
Directory of travel agencies and travel reservation services in the State of Illinois. Each travel agent entry includes contact information and County name, based on its zip code.
(IL Travel)
Illinois.gov
- http://www.illinois.gov/
The state capital of Illinois is Springfield. Learn about Illinois state government agencies, operations, and services. Find information about living, traveling, and working in Illinois.
University of Illinois at Chicago
- http://www.uic.edu/
The University of Illinois at Chicago was formed in 1982. Today there are about 25,000 students at UIC, making it the largest University in the Chicago area. There are more than 2000 faculty members. Besides the College of Liberal Arts and Sciences, UIC has Colleges of Applied Health, Art and Architecture, Business Administration, Dentistry, Medicine, Nursing, Public Health, Social Work, and more.
(IL Education)
University of Illinois at Urbana-Champaign
- http://www.uiuc.edu/
The University of Illinois began as Illinois Industrial University in 1867. In 1885 it became one of the original Land-Grant State Universities. The University has the largest public university library in the country. There are approximately 42,000 total students enrolled, 88% from Illinois and almost 3000 faculty, including 21 Nobel prize winners and 20 Pulitzer prize winners.
(IL Education)
This is the Illinois subcategory of the US States category. Our editors have reviewed these web pages and placed them on this Illinois page.