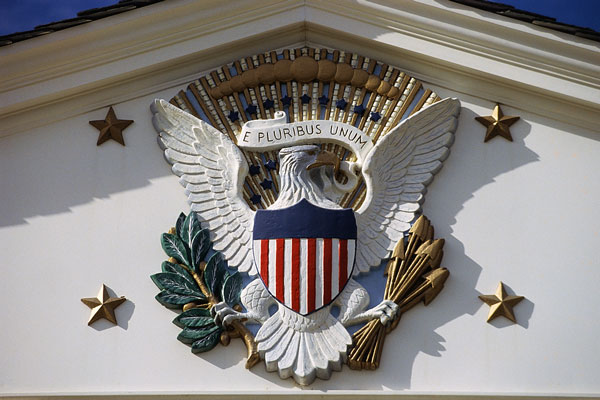 United States National Emblem - Herbert Hoover National Historic Site
Links
Iowa Cities
- https://www.city-maps.us/iowa.htm
This alphabetically-arranged list of major Iowa cities provides convenient access to each city's interactive map, current weather conditions, and demographic information.
Iowa State Maps
- https://www.iowa-map.org/
Read about the geographical features of Iowa, including its rivers and prairie lands. View detailed road maps, relief maps, and topographical maps of Iowa, and find information about Iowa tourism.
Iowa State University
- http://www.iastate.edu/
ISU, in Ames, Iowa, has been voted one of the 25 most beautiful campuses in America. There are 26,000 students and more than 1700 faculty. It began in 1868 as a land-grant college. Among other programs, ISU has a Graduate School of Veterinary Science. In Sports, ISU plays with the Big 12 Teams. Information about the school, applying, visiting, and much more on the website.
(IA Education)
Iowa Travel Agencies
- https://travel-agents.regionaldirectory.us/iowa.htm
Directory of travel agencies and travel reservation services in the State of Iowa. Each travel agent entry includes contact information and County name, based on its zip code.
(IA Travel)
Official State of Iowa Website
- http://www.iowa.gov/
The capital city of Iowa is Des Moines. Learn about the Iowa state government, including its departments and operations. Read about living and working in the Hawkeye State, and find Iowa travel and tourism information.
University of Northern Iowa
- http://www.uni.edu/
UNI, founded in 1876, is a state-supported school with approximately 14,000 students located in the Cedar Falls. There are 829 faculty. UNI has been listed as one of the best Midwestern colleges by the Princeton Review. There are a number of Master's programs and two doctoral programs: Education and Industrial Technology. The IT degree is unique to UNI. Students can apply to UNI online.
(IA Education)
This is the Iowa subcategory of the US States category. Our editors have reviewed these web pages and placed them on this Iowa page.