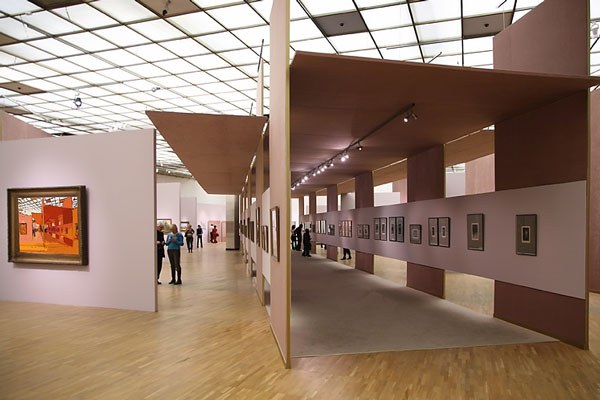 Art Gallery
Links
Art a GoGo
- http://www.artagogo.com/
Provides news about art and the art world. Information about art events and reviews. Also interviews with those involved in the arts.
Artnet - Art Galleries, Artworks, and Events
- http://www.artnet.com/net/galleries/gallery_home.aspx
Listing of galleries by categories including fine arts, design, decorative arts and antiques, exhibitions, and art fairs and new galleries.
Hirshhorn Museum and Sculpture Garden
- http://hirshhorn.si.edu/
Part of the Smithsonian Institute, the Hirshhorn is the Museum for contemporary art and sculpture located on the Mall in Washington D.C. The website contains information about visiting, exhibitions, important archival collections, and research facilities.
Los Angeles County Museum of Art
- http://www.lacma.org/
The Los Angeles County Museum of Art (LACMA) is the largest art museum in the western United States with an impressive collection.
MoMA - The Museum of Modern Art
- http://www.moma.org/
Visitors will find an extensive collection of modern art at this well-known New York City art museum.
National Gallery of Art
- http://www.nga.gov/
Website for the Gallery officially created by Congress in 1937, located on the Mall in Washington D.C.
Philadelphia Museum of Art - Galleries
- http://www.philamuseum.org/galleries/
The Philadelphia Museum of Art, one of the largest museums in the United States, offers more than 200 galleries for visitors to enjoy. The museum's galleries feature treasures from around the world, including works of art from antiquity to the present day.
TFAO: Calendar of American Representational Art Exhibitions
- http://www.tfaoi.com/exhmus.htm
Calendars from art museums and other non-profit organizations. Includes upcoming and past exhibitions of American Representational Art, defined as created at any time period in American history and depicting recognizable forms from nature. Conceptual abstract art is excluded.
The Guggenheim Museums and Foundation
- http://www.guggenheim.org/
The Guggenheim's Frank Lloyd Wright–designed museum in New York is one of the 20th century's most important architectural landmarks.
The National Portrait Gallery
- http://www.npg.si.edu/
The Smithsonian's National Portrait Gallery in Washington D.C. portrays those who have shaped American history.
The Walters Art Museum
- http://thewalters.org/
The Walters Art Museum in Baltimore, Maryland is internationally renowned for its collection of art bequeathed to the city by William and Henry Walters.
This is the Art Galleries subcategory of the Arts category. Our editors have reviewed these web pages and placed them on this Art Galleries page.