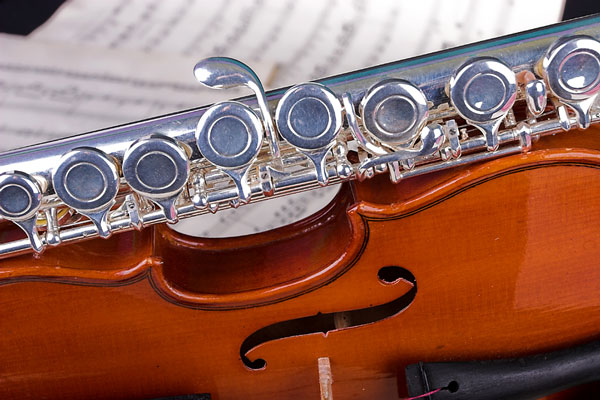 Violin, Fife, And Musical Score
Links
Allmusic
- http://www.allmusic.com
Extensive website covering music of all types including contemporary and classical. Includes biographical information, new releases, music videos and reviews.
Classical Net
- http://www.classical.net/music/
An extensive site with reviews and databases on music and books, links to other classical music sites, a basic repertoire list, CD buying guide, and recommended CDs.
DW3Classical Music Resources
- http://www.lib.duke.edu/dw3/
Website produced and maintained by Duke University. Contains biographical information, 670 composer homepages, access to music databases, organizations, and centers for scholarly research.
Folk Music Home Page
- http://www.folk.jg.org/
Very extensive website of all kinds of information about folk music: performers, concerts, festivals, organizations, education, and much more.
iTunes
- http://www.itunes.com/
This website is the major source for downloads to Apple iPods, Macs, iPhones, and other Apple products. The site also contains information about all Apple products, including how to purchase refurbished iPods and other products. The music downloads include music, video, TV shows, and more. There is also information about using the products and how to download and news about new products.
J.S. Bach Home Page
- http://www.jsbach.org/
A non-commercial site that contains scholarly articles, biographical information, discography, bibliographies, recommended recordings, a tourist guide, and links to Bach-related web sites.
Jamendo
- http://www.jamendo.com/
On Jamendo artists distribute their music under Creative Commons licenses, which allows downloading, remixing, and sharing music for free. Users can listen to, download, and write reviews of the music. Writers and musicians are given an opportunity to have their music gain a wider audience. The website also contains blogs and news about new albums.
M-Audio
- http://www.m-audio.com/
M-Audio, founded in 1988, is a business unit of Avid Technologies, and is a leading provider of creative tools for computer-centric musicians and audio professionals. The website describes its products with illustrations, lists dealers, has an online store, specials, reviews of their products, information about support, and more.
Music Arrangers
- http://www.musicarrangers.com/
A professional music arranger shares his knowledge of music theory, including pitch, chords, and timing. Learn about musical instruments and take music lessons online.
Music Instruction
- https://music-instruction.regionaldirectory.us/
A music teacher provides instruction on how to play musical instruments or on how to sing. This music instruction directory lists music instructors that are located throughout the USA. Each music instructor listing includes a website link and contact information.
Musicals 101
- http://www.musicals101.com/
Subtitled "The Cyber Encyclopedia of Musical Theater, TV, and Film," this site includes the history of musicals, reference sources and links, reviews, "special courses," and a section on how musicals are made.
Musicians
- https://musicians.regionaldirectory.us/
Musicians are persons who are talented or skilled in music or those who play musical instruments. This musician directory lists musicians that are located throughout the USA. Each musician listing includes a website link and contact information.
Operabase
- http://www.operabase.com/index.cgi?lang=en
Monitors and records operatic activity since 1996. Over 185,000 performances on file. Searchable by performance, artists, managers, companies, and festivals. Access to professional tools for performance and artists on an advanced website called Operabase Professional.
OperaGlass
- http://opera.stanford.edu/
Administered by Stanford University. Includes composers, libretti, source texts, performance histories, opera synopses, discographies, and performers.
Recording Studios
- https://recording-studios.regionaldirectory.us/
A recording studio is a facility that is designed for musicians and vocalists to record and mix sounds. This recording studio directory lists music recording studios that are located throughout the United States. Each recording studio listing includes a website link and contact information.
Rhapsody and RealPlayer
- http://www.real.com/
This is an online music site that competes with itunes. It is a source for downloading music to MP3 players and iPods. The website provides information about subscribing and has offers for free downloads of music and videos.
Vocal Music Instruction Regional Directory
- https://vocal-music-instruction.regionaldirectory.us/
Voice music instructors teach their students how to sing well. This directory includes vocal music instructor pages for every state in the USA plus Washington, DC.
Vorbis.com
- http://www.vorbis.com/
Ogg Vorbis is an audio compression format, roughly comparable to other formats such as MP3, VQF, AAC, and other digital audio formats. It is different in that it is free, open, and unpatented. Ogg Vorbis is intended to replace all other proprietary, patented formats. On the website, users can find music sites that use Ogg Vorbis, find information about how it works, and get set up with it.
Yahoo! Music
- https://www.yahoo.com/entertainment/music/
This is Yahoo's music entertainment page. Users can download music, find out about artists, new recordings and videos, see videos, consult charts, access over 2 million songs, and more.
This is the Music subcategory of the Arts category. Our editors have reviewed these web pages and placed them on this Music page.