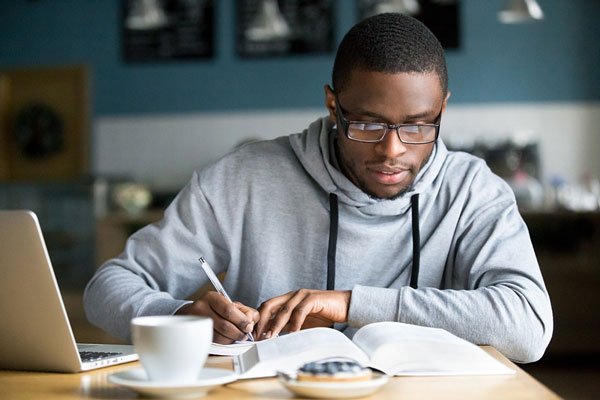 African American Student Preparing For A Test
Links
ACT Test Prep
- http://www.actstudent.org/testprep/
Here students can find helpful online test preparation for the ACT by the makers of the test.
Cambridge ESOL
- http://www.cambridgeesol.org/
Cambridge ESOL is part of Cambridge Assessment at Cambridge University. It provides tests and exams in various aspects of the English language to over 8 million people in 150 countries. The tests are used to assess proficiency at various levels of competency. This website provides information about the tests and centres where they can be taken.
ETS: Educational Testing Service
- http://www.ets.org/
Information about all the standardized tests provided by the Educational Testing Service, including SATs and GREs. Also information about test dates, registering for tests, and Official Test Prep materials.
Kaplan Test Prep
- http://www.kaptest.com/
Use this popular website to find links to test prep for a variety of exams in the law, medical, pharmaceutical, dental, and other fields.
Test Prep
- http://www.testprepreview.com/
Find free online test prep for numerous exams, including the ACT, GED, GMAT, GRE, LSAT, MCAT and more.
This is the Test Preparation subcategory of the Education category. Our editors have reviewed these web pages and placed them on this Test Preparation page.