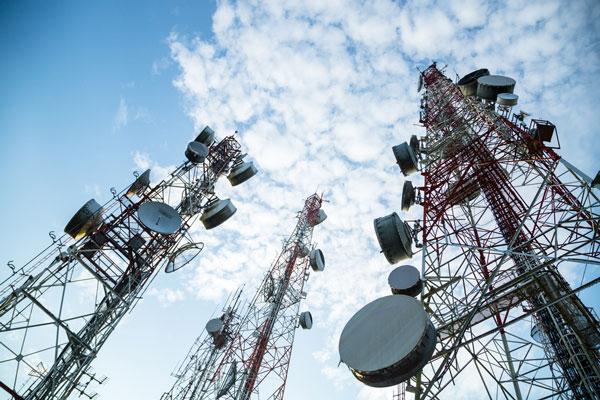 Looking Up At Telecommunications Antennas
Links
Avaya
- http://www.avaya.com/
Avaya is a global telecommunications company specializing in enterprise telephony and call center technology. It was spun off from Lucent Technologies in 2000. On the website are a description of the services offered by Avaya and what support is offered. There is also information about events and conventions where users can see Avaya products.
DISH Network
- http://www.dishnetwork.com/
DISH Network is located in Englewood, Colorado. The company delivers Direct Broadcast Satellite (DBS) television products and services to customers worldwide. DISH offers many products including DISH on Demand, high speed internet, parental locks, and other accessories. Information about all of its services and products and how to sign up for it are on the website.
Nortel
- http://www.nortel.com/
Nortel, a Canadian company, was founded in 1895 to supply telecommunications equipment to the fledgling telephone system. Today it offers telephony, multiservice internet, and IP-based global communications systems. On the website, users can search by products and services, or by size and type of business to find out what Nortel has to offer. Information about purchasing also on the site.
NTT Communications
- http://www.ntt.com/
NTT Corporation, a Japanese Communications company, was founded in 1999. Their slogan is "CreativE Life" by which they mean they can bridge the gap between individuals and businesses with cutting edge technology and solutions. NTT Communications has locations in 21 countries. The website provides information about how to contact them in any of their locations and latest news about the company.
Phone News - Telecommunications News
- https://www.phone-news.org/
Browse telecom news headlines from selected news sources around the world, read the referenced news articles, and stay up-to-date on developments and trends in mobile phones and the telecommunications industry.
QUALCOMM
- http://www.qualcomm.com/
QUALCOMM, founded in 1985 and located in San Diego, is a leading research and development company that produces wireless telecommunications. Users can search for QUALCOMM solutions by industry type, business areas, or by product. There are also links to service and support and much more information about products and services.
Qwest
- http://www.qwest.com/
Qwest, incorporated in Delaware in 1997, is a large telecommunications provider. Their local services area consists of 14 states in the West. Qwest also has a nationwide fiber optic network system that extends to the whole country. Today they employ 38,000 people. On the website is information for consumers and shareholders about the company and services.
Sprint
- http://www.sprint.com/
Sprint Nextel offers a range of wireless and wireline communications services. Sprint was founded in 1899 as the Brown Telephone Company. Nextel was founded in 1987, and the two companies merged in 2004. The website provides information about phones, plans, accessories, coverage and support. The Sprint Digital Lounge offers special ring tones, entertainment, and applications.
Telecommunications
- https://telecommunications.regionaldirectory.us/
Telecommunications is communication via technological means such as landline or wireless telephone, telegraph, or broadcasting. This telecommunications directory lists telecommunication solutions providers that are located throughout the United States. Each telecom solutions provider listing includes a website link plus contact information.
This is the Telecommunications subcategory of the Industry category. Our editors have reviewed these web pages and placed them on this Telecommunications page.