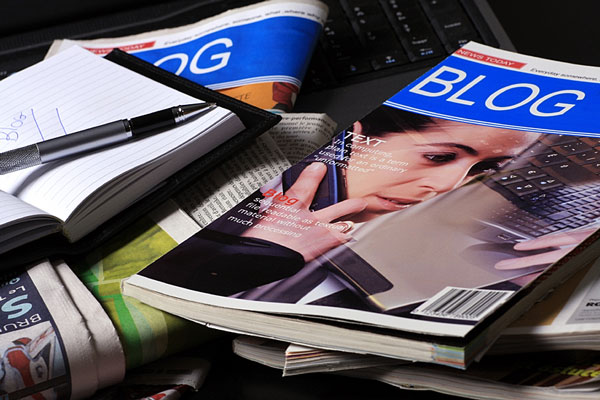 Blogging Magazines
Links
9Rules
- http://www.9rules.com/
9Rules is a blogging site that was started in 2003. The community of bloggers is organized by topics. To join the website, you must submit an application. Only the best blogs are accepted. More information about becoming a member is on the website.
Adobe Blogs
- http://blogs.adobe.com/
This is a website where people interested in ideas, products, and issues connected to Adobe software can post and read blogs.
Angelfire
- http://www.angelfire.lycos.com/
This website hosting service, started by Lycos in 1995, offers various option levels, including a basic free service. Angelfire is especially popular with teenagers. Website visitors can browse blog sites by category. The website also provides instructions for building a website with photo album and blogging capabilities as well as ringtone downloads, game downloads, and more.
Automattic
- http://www.automattic.com/
Automattic began in 2005. Its most well-known product is WordPress which is an open-source blogging site. WordPress is noted for its ease of use. The website provides information about signing up for WordPress and assistance in setting up a blog. There are also links to blogs that use WordPress.
Bloglines
- http://www.bloglines.com/
Bloglines is a free online service for creating and searching for blogs. It is available in 10 languages and can be used on hand held computers and cell phones. Other features include local weather, package tracking, and personalized recommendations.
Delicious
- http://www.delicious.com/
This is a social bookmarking website. Users can keep track of favorite sites of their own and access the bookmarks of other users by topic. The site is useful for keeping track of sources for research, a wishlist of commercial sites, recipes, and more.
Geeklog
- http://www.geeklog.net/
Geeklog, founded around 2000, offers an open-source weblog program. Users may have to add some components to their systems in order to use the program which is, otherwise, easy to use. It has components such as statistics, user systems, a comment system, security, calendar, and much more. Full descriptions of the program, examples, downloading, and user comments are on the website.
Live Journal
- http://www.livejournal.com/
Live Journal, begun in 1999 and based in San Francisco, is an online journal service with an emphasis on user interaction. The basic service is free; users who pay receive premium features style choices, userpics, links, and more. Live Journal is an open source software development project; users can participate in the project with ideas and suggestions. Instructions on how to join on the website.
Movable Type Publishing Platform
- http://www.movabletype.com/
Movable Type, founded in 2001, is a publishing platform designed to meet the website content management needs of growing organizations and to serve as a social media platform for creating community-driven blogs and communities. The website contains information about the products they market, how to use them, ordering them, and a blog. There are also examples of sites that have been created.
MSDN Blog
- http://blogs.msdn.com/
The Microsoft Developer Network blogging site. Here users and developers can post information and ask questions about the software.
MySpace
- http://www.myspace.com/
MySpace is a free online community that lets user's friends meet each other. MySpace blog owners must "invite" other bloggers into their personal network, thereby keeping the site somewhat safe. There is a useful FAQ which answers questions about security and how to block or delete other users. Instructions and sign-up are also on the site.
Official Google Webmaster Central Blog
- http://googlewebmastercentral.blogspot.com/
News about crawling and indexing sites for the Google Index. This site provides information about how the Google webmaster can contact users by notification on the Google Webmaster console. The Webmaster can communicate in many languages.
Technorati
- http://www.technorati.com/
Technorati searches, surfaces, and organizes blogs and "social media" on the internet. Users can search for videos, photos, blogs and more by searching for subjects, top blogs, favorite searches, the most popular, WTFs, and more. There is also a Watchlist where users can keep track of their favorite sites. Joining is free.
TypePad
- http://www.typepad.com/
TypePad is a blogging service for professionals that hosts many of the world's most popular blogs and business websites. TypePad is easy to use, and there is a free trial. Users can keep their domain names. There are templates for creating good looking blog sites or users can design their own. TypePad also offers the usual enhancements such as widgets and photo albums.
Vox.com
- http://www.vox.com/
Vox is a free, fun, easy to use personal blogging service. Vox features a built-in editor that makes designing and adding to blog sites easier and faster. Bloggers can design good looking blog sites using Vox tools, which are also useful for making quick changes to layouts and other features. On the website, users can find more information about Vox and also view some of the blogs.
WhoLinksToMe
- http://www.wholinkstome.com/
This website is subtitled, "your daily dose of narcissism." It monitors over 2 million blogs and 9 million links. The software can be downloaded in three easy steps and then placed on the user's blog so that he/she can track and monitor hits to the site.
WordPress
- http://www.wordpress.org/
WordPress, founded in 2003, is a self-hosted blogging tool. It is an open-source project and can be downloaded for free. The website contains information about WordPress, how to use it, and how to download it.
WordPress.com
- http://www.wordpress.com/
WordPress is a way to start blogging. It is a hosted version of the WordPress blogging tool that is available on WordPress.Org. The website contains information about setting up a blog, provides access to blogs already created, and some interesting features such as important WordPress Blog users such as Curt Shilling, Rosie O'Donnell, the U.S. Post Office, and Harvard University, among others.
Xanga
- http://www.xanga.com/
Xanga is a blogging site founded in 1998 as a site for sharing music and book reviews. Today it is used mostly by teenagers who must first register. Users can create weblogs, share photos, videos, profiles, and form blogrings for a group to blog on their own network of friends.
This is the Blogging subcategory of the Internet category. Our editors have reviewed these web pages and placed them on this Blogging page.