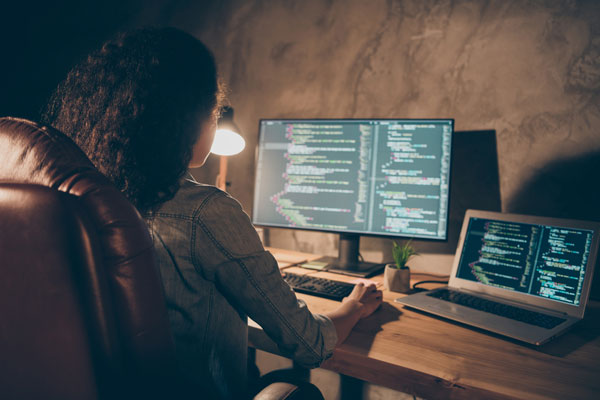 African American Internet Software Developer
Links
37 Signals
- http://www.37signals.com/
37 Signals produces simple software to help get you organized. Two of its most popular packages are Basecamp and Backpack. The site describes these tools and others.
Accessify - Home of the Accessibility Toolset
- http://www.accessify.com
Accessify means to make assessable. This is a free online resource about accessibility with articles, books, and downloads to tools such as a pop-up window generator , a yes/no list maker, and much more.
Advogato
- http://www.advogato.org/
Advocato is a free resource for software developers. It calls itself an advocate for developers, providing all kinds of information and ideas free. Advocato is an amalgamation of blogs by and for developers. Access to the information is free on the website.
Apache Software Foundation
- http://www.apache.org/
ASF is a foundation that was created to support Apache software products. Software is produced by a collaborative of experts who volunteer their expertise. The Foundation sponsors meetings, projects, and information about software developments.
Citrix Systems
- http://www.citrix.com/
Citrix Systems, located in Ft. Lauderdale FL and founded in 1989, provides a range of software that help businesses optimize their web applications. Fast and easy accessibility to files and software is important. If the people who work in a business cannot access the necessary files or software, they cannot help the customers. Citrix Systems provides solutions.
Cookie Central
- http://www.cookiecentral.com/
Cookie Central provides the user with a lot of information about what cookies are and how to eliminate them. They sell several kinds of software such as HistoryKill which automatically eliminates web search history and allows the user to decide which cookies to keep and which to delete. Other products are Webroot Window Washer, Spy Sweeper, Cookie Pal, Cookie Crusher, and others.
CPAN: Comprehensive Perl Archive Network
- http://www.cpan.org/
Perl is a high-level programming language that derives from C programming language. Perl is simple to learn. Users can find out how to get Perl and how to add to it on the website. Also on the site are some examples of problems and places that have used Perl.
DirectAdmin
- http://www.directadmin.com/
DirectAdmin, a Canadian company, produces and sells control panel software. It allows businesses to set up an email menu, FTP menu, DNS menu, Statistics menu, Front Page Extensions, a Subdomain menu, and more. The software is customizable. There is an online tutorial, a forum for discussion of the products, and a support site.
Download
- http://www.download.com/
Users to the website can join CNET Download for free, which provides access to CNET Download and other services. On the site, users can find information about downloads--new ones, reviews, news, tips and tricks, comparison pricing, blogs, and more. The site is also searchable by type of software, including music and games. There is a continually updated list of download favorites.
EllisLab
- http://www.ellislab.com/
EllisLab, founded in 2001, is a privately-owned company that produces publishing software and provides web-site hosting. Their first product, called pMachine Pro is available free on the website. Other products are ExpressionEngine, a management tool and Codelgniter for web developers.
GetRight
- http://www.getright.com/
GetRight is a download manager to help you download files from the internet. It features download resuming, accelerating, scheduling, and more. This software solves the problem of losing a large file as it downloads. It also provides a history so that users can easily find the files they've downloaded. And it provides faster downloading. More information on the website, including how to purchase.
Globus
- http://www.globus.org/
The Globus Alliance is a group of organizations and individuals developing fundamental technologies behind the "Grid" to facilitate data and software sharing. The Globus Toolbox is an open source software toolkit that is used for building grid systems. The website describes both these products in full detail, plus information about the research projects that the Alliance is working on.
GNU
- http://www.gnu.org/
GNU is an operating system composed entirely of free software. Its design is Unix-like. GNU offers numerous systems and software programs. GNU stands for "Gnu's Not Unix," and was developed, along with a GNU Manifesto, by Richard Stallman, a former MIT professor.
Invision Power Services
- http://www.invisionpower.com/
Invision Power Services produces and sells software for businesses and communities. Its products include IP Board, bulletin board software; IP Blog which plugs into IP Board; IP Downloads, a comprehensive download manager which integrates with IP Board; and IP Gallery, for picture-hosting needs. Learn about these products, companies who use them, and how to purchase them.
JAlbum
- http://www.jalbum.net/
JAlbum is a free software program that lets the user create an online photo album that can be uploaded to the internet. It runs on all platforms and is available in 30 languages. Many options for customizing the album and adding text.
Java.com
- http://www.java.com/
Java is a Sun Microsystem product. The website lists the products which include animated greeting cards, games, screen savers and more. The site is also for developers to showcase their products, and the site also offers tips and and contests.
MediaWiki
- http://www.mediawiki.org/
MediaWiki is a free software package originally written for Wikipedia. It is now used by several other projects of the nonprofit Wikimedia Foundation. One of its more useful features is that when a user submits an edit to a text, Wiki keeps the original in a database so that it can be easily retrieved. Information about the Organization and the software is on the website in several languages.
Mozilla
- http://www.mozilla.com/
This is the website for downloading Mozilla Foundation products such as Foxfire and Thunderbird. Also information about Foxfire add-ons and reviews and news about Mozilla products.
Mozilla Project
- http://www.mozilla.org/
Mozilla is a not-for-profit organization that develops and disseminates software products. They are the producers of Foxfire, a popular web browser, and Thunderbird, which provides access to email. The website describes the Mozilla Foundation and also provides information about joining.
Omniture
- http://www.omniture.com/
Omniture is a leading provider of business optimization software, which offers easier and more flexible ways to manage online, multichannel, and offline business initiatives without costly investments in IT infrastructure. Users of the website can find more detailed information about their products, request a demonstration, and read testimonials.
OpenLDAP
- http://www.openldap.org/
OpenLDAP software is a free open source implementation of the Lightweight Directory Access Protocol. The website provides information about the system, a link to downloading, support and mailing lists.
OpenSSL
- http://www.openssl.org/
The OpenSSL is a collaborative effort to develop a robust, commercial-grade, full-featured, and open-source toolkit implementing the Secure Sockets Layer and Transport Layer Security protocols as well as a full-strength general purpose cryptography library. The software is free and instructions for downloading are on the website.
ornj.net
- http://www.ornj.net/
Ornj.net is the homepage for Mark McIntyre, a graduate student in Canada. McIntyre has developed three software programs: Araneae (a text editor), Citrus Alarm Clock (an online alarm clock), and Web Album Generator. These programs are all available for free though there is a link to a site where users can make a donation.
Perl
- http://www.perl.org/
Perl, developed in 1987, is a stable, cross platform programming language that takes the best features of other programming languages. It is open source and has become the most popular web programming language, sometimes referred to as "the duct-tape of the internet." On the website, users can find out about Perl, download it, consult documentation, find out about events, and more.
Pluck Social Media
- http://www.pluck.com/
Pluck is a provider of social media which they define as products that make the internet and specifically website content more interactive and accessible. Pluck's products are specifically for publishers and brands. Their customers include such companies as Conde Nast and McGraw Hill. The website describes their products, provides news and reviews, and event dates.
Qarbon
- http://www.qarbon.com/
Founded in 1997, Qarbon is a leading producer of presentation software. With it, trainers, technologists, marketers, or support personnel can create and publish interactive presentations, demos, simulations and tutorials in minutes. The software is currently used by such organizations as BlackBoard.com, Sony, Lucent, Turner Broadcasting, and many others. They also provide service and training.
RealNetworks
- http://www.realnetworks.com/
RealNetworks is an internet medium for downloading music and videos. The website describes all of its products and how to purchase them. RealNetworks is the company that owns RealPlayer Music store a competitor to iTunes Music Store.
Samba
- http://www.samba.org/
Samba is an open source/free software that has been available since 1992. It is a suite of programs that enables interoperability between Linux/Unix servers and Windows clients. The site contains a full description of the programs, how to download and install them, FAQs, LIST subscribe, Docs and books, and much more.
Shareware
- http://www.shareware.com/
On this website, users can search for shareware programs and free software downloads. Users can search by platform and browse by category. The site also lists news of the latest programs to download.
SourceForge
- http://sourceforge.net/
SourceForge is the largest Open Source software development website. There are over 100,000 projects and over one million users. Website provides a centralized resource for managing projects, issues, communication, and code.
Squid: Optimising Web Delivery
- http://www.squid-cache.org/
Squid is a high-performance proxy caching server for web clients, supporting FTP, gopher, and HTTP data objects. Internet caching is a way of capturing requested internet objects that saves the user time and bandwidth consumption. The website describes the product in a general way and also in its technicalities. Also information about how to join and contribute to the Squid Project.
SWsoft: Virtualization and Automation Software
- http://www.swsoft.com/
Founded in 1999, SWsoft has offices in North America, Europe, and Asia. The company's software powers more than 130,000 servers and 600,000 desktops in over 120 countries. The product line includes operating system virtualization software, desktop software, and a leading server control panel. The website lists problems and solutions, support, events, and much more. Users can request demos.
Symantec
- http://www.symantecstore.com/
Symantec, founded in 1982, is located in Cupertino, California. They are producers of a number of well-known software programs such as Norton Utilities. On this website, users can learn about Symantec products and purchase them. There are also some products that have short-term free trials that can be accessed from this website.
Symantec Corporation
- http://www.symantec.com/
Symantec, founded in 1982, is located in Cupertino, California. Symantec is known for the Norton Antivirus and other internet security programs. The website lists all of the Symantec products, plus news and articles about products, support, and downloads.
The ServerSide
- http://www.theserverside.com/
This website is an online community for enterprise Java architects and developers, providing daily news, tech talk interviews with key industry figures, design patterns, discussion forums, satire, tutorials, and more. The ServerSide is a TechTarget publication.
The Source for Java Developers
- http://java.sun.com/
The Sun Developer Network is an information source and forum for Java developers and other users of Java software.
Tigris
- http://www.tigris.org/
Tigris.org is a medium-sized open source community focused on building better tools for collaborative software development. Tigris provides information resources for software engineering professionals and students. On the website, users can find out what projects are being worked on and the stage of development. There are also links to how to add projects to the organization.
Ubuntu
- http://www.ubuntu.com/
Ubuntu is a community-developed, linux-based operating system that is good for laptops, desktops, and servers. It contains a web browser, presentation, document, and spreadsheet software, instant messaging and more. The software is free and can be downloaded from the website. Its first official release was in 2004. Users can find out more about the software and organization on the website.
VideoLAN
- http://www.videolan.org/
VideoLAN, which began as a student project at the Ecole Centrale Paris, is a software project, which produces free software for video, released under the GNU General Public License. Their main product is the cross-platform VLC media player. On the website, users can find out more about the project, how to contribute to it, news, and events where it can be seen.
Visicom Media
- http://www.visicommedia.com/
Visicom Media, located in Brossard, Quebec and founded in 1996, develops and markets internet productivity software. Their products include software for designing, storage, programming, file transferring, and add-on features. Users can purchase the software on this website or take advantage of free trials for all the products.
Webshots
- http://www.webshots.com/
Webshots is a photo- and video sharing site. Users can share their photos and make slide shows than can be shown on personal websites or through Webshots. There are also professional photographs available in 1000s of subjects. A basic service is free; the site has information about subscribing for more options.
WhatWg
- http://www.whatwg.org/
WhatWg is a growing community of browser vendors, web developers and other people interested in the development of the next generation of HTML and related technologies, specifically designed to allow authors to write and deploy applications over the World Wide Web. The home site provides links to FAQs about the organization, blogs, forums, specs, wiki, and a downloadable mailing list.
XIGLA
- http://www.xigla.com/
XIGLA software provides generic web based solutions aimed at fulfilling different requirements for the medium and small-sized business. Their newest product is Absolute Video Channel which allows companies to form their own TV channel. Other products include live customer support software, web site content manager, newsletter management software, banner ad management software, and more.
Zoho.com
- http://www.zoho.com/
ZOHO offers a suite of online, web-based software products. The company's project management, bug tracking, and issue management software is geared towards increasing productivity and offering easy collaboration.
This is the Internet Software subcategory of the Internet category. Our editors have reviewed these web pages and placed them on this Internet Software page.