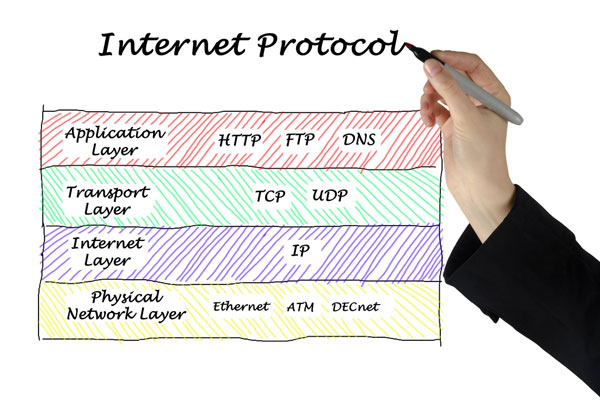 Internet Layers And Their Protocols
Links
IETF: Internet Engineering Task Force
- http://www.ietf.org/
The IETF is a voluntary international organization that convenes task forces and committee to study various issues related to Internet standards and protocols. The website describes the various committees. Originally part of the Federal Government, the Task Force has had independent status since the early 1990s.
Internet Systems Consortium
- http://isc.org/
ISC is a nonprofit, public benefit corporation dedicated to supporting the infrastructure of the universal connected self-organizing internet--and the autonomy of its participants--by developing and maintaining core production quality software, protocols, and operations. On the website, users can find out information about software, publications, training, and much more.
OASIS
- http://www.oasis-open.org/
OASIS, Organization for the Advancement of Structured Information Standards, is a not-for-profit consortium that drives the development, convergence, and adoption of e-business standards for the global information society. The Consortium, founded in 1993, has more than 4000 participants from 600 organizations globally. On the website, users can find out how to participate and more about OASIS.
Open Source
- http://www.opensource.org/
Open Source founded in 1998 and located in California, is the industry recognized body that reviews and approves licenses for OSD conformance. The Organization developed the definition by which licenses are reviewed.
The Web Standards Project
- http://www.webstandards.org/
The Project is a grassroots coalition fighting for standards which ensure simple, affordable access to web technologies for all. The Project supports the standards of the w3 organization, which are followed by major internet browsers; however, there are many non-valid sites. The goal of this project is to get all designers and web site content makers to conform to standards to improve access.
W3: World Wide Web Consortium
- http://www.w3.org/
W3C is a worldwide international consortium where members work toward establishing web standards. Since 1994 the Consortium has published more than 90 standards called W3C Recommendations. The website describes the consortium, has links to the Recommendations and information about becoming a member.
W3C Markup Validation Service
- http://validator.w3.org/
This is a free service that checks web documents in formats like HTML and XHTML for conformance to W3C recommendations and other standards. Can be searched by URL, File Upload, or Direct Input.r
Web Standards Group
- http://www.webstandardsgroup.org/
The Web Standards Group is for web designers and developers who are interested in web standards. The Group has 4821 members from 117 countries who discuss problems and issues through the Forum on this site or by attending meetings. The website provides information about joining.
This is the Internet Standards subcategory of the Internet category. Our editors have reviewed these web pages and placed them on this Internet Standards page.