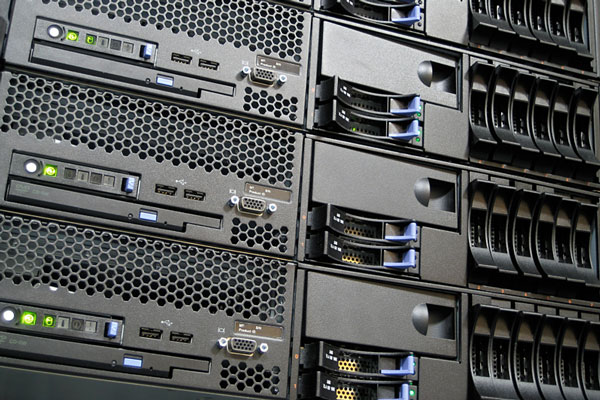 Rack-mounted Web Site Servers
Links
Bluehost.com
- http://www.bluehost.com/
Bluehost is the web site host for thousands of individuals and businesses. The website provides a list of all the features offered by Bluehost, a live demo, help center, pricing, and instructions for getting started.
DreamHost Web Hosting
- http://www.dreamhost.com/
DreamHost is an employee-owned company that was founded in 1993 by four MIT undergraduates. The company now hosts over 500,000 websites. The company prides itself on being totally "green." DreamHost offers a number of pricing plans, all of which are explained on the website. Information about contacting the company to host a site are also on the site.
EngineHosting
- http://www.enginehosting.com/
EngineHosting is a website hosting and management company. They offer such services as Load-Balancing whereby groups of services work together to provide email, web, and other services to clients; Scalability, the easy ability to grow from a small site to a large one; fast service, even when there is a lot of traffic on the site; and excellent technical support.
Hostgator
- http://www.hostgator.com/
Hostgator is a privately owned company founded in 2002. They provide service to over 400,000 websites. They offer 24/7/365 phone support, 99.9% uptime, and there is a 30-day money back guarantee of satisfaction with the service. There are several different packages offered, all described in detail on the site. Hostgator also offers reseller hosting plans with many customizable features.
Joyent
- http://www.joyent.com/
Joyent is a an advanced application hosting solutions provider that offers cloud software products and services. The products include collaboration suite software, web hosting, and online backups. Subscription rates vary; pricing information and fuller descriptions on the website.
LYPHA.com
- http://www.lypha.com/
LYPHA is a provider of managed private-label reseller programs and shared/dedicated hosting solutions to many levels of customers, including service providers, resellers, and business customers in over 78 countries. The website provides full information about the products and services, ordering information, and much more.
Media Temple
- http://www.mediatemple.net/
Media Temple, established in 1998 and located in Los Angeles, is a privately held web-hosting and software application services company. MT offers service 24/7/365. One of their products is the first iPhone enabled account center. Fuller description of the company and its products are on the website plus information about ordering it.
SiteGround
- http://www.siteground.com/
This is a web hosting service founded in 2003 and headquartered in Houston, Texas. They currently host more than 100,000 domains in the U.S. and European Union. The website offers details about an inexpensive package that includes a free domain, 99.9% server uptime, 24/7 customer service, free blog application, and much more. Also on the site are testimonials and news.
Spry Web Hosting
- http://www.spry.com/
Spry is a privately-held company located in Seattle, Washington. The website offers a place to choose a domain name and the choice of many hosting plans. There are also support links and forums which include testimonials, news, maintenance announcements, updates, and more.
Virtual Hosting
- https://virtual-hosting.regionaldirectory.us/
Virtual hosting is a technique for hosting multiple Internet domain names on one computer or server cloud, sharing a single IP address. This virtual web hosting directory lists virtual hosting providers that are located throughout the USA. Each virtual hosting provider listing includes a website link and contact information.
Web Hosting Talk
- http://www.webhostingtalk.com/
This site contains web hosting news, web hosting wiki, "find a host," a store, rss feeds, member forums, advertising forums, a list of currently active members, site statistics, todays news, and a calendar of members' birthdays. Users to the site must register. Registration is free.
Web Site Hosting
- https://web-site-hosting.regionaldirectory.us/
A web hosting service is an Internet service that enables web site developers to make web sites accessible to the general public via the World Wide Web. This web site hosting directory lists web site hosting service providers throughout the United States. Each web site hosting provider listing includes a web site link plus contact information.
Webs.com - Small Business Website Builder
- http://www.webs.com
Webs provides free small business websites. Get your business online or start an Internet store with our ecommerce tools. No design experience required.
This is the Web Site Hosting subcategory of the Internet category. Our editors have reviewed these web pages and placed them on this Web Site Hosting page.