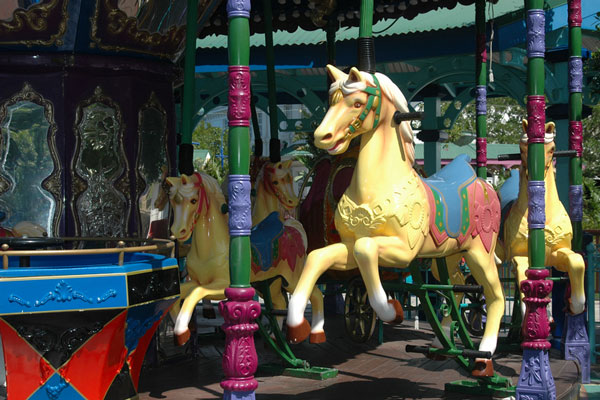 Vintage Merry-go-round
Links
ABC
- http://www.abc.go.com/
This is the website for ABC. On the site are program schedules, information about shows, entire broadcasts for some shows, a link to the ABC store, and an FAQ site that answers questions such as how to obtain an autograph from a favorite ABC star.
Audible
- http://www.audible.com/
Audible is a provider of spoken entertainment and information on the internet. Consumers can shop, purchase, and download books and other spoken word products to their computers where they can be listened to, transferred to an M3P player, or burned to a CD.
Court TV
- http://www.courttv.com/
This is the website for Court TV, a Turner Broadcasting Station. It was launched in 1991 and has expanded to several different shows, all hosted by lawyer-anchors. The website provides users with scheduling, trials in the news, people, photo, videos, chats, blogs, and a section called 13th Juror in which users can write in their opinions about some of the cases on the shows.
DIRECTV
- http://www.directv.com/
DIRECTV, headquartered in El Segundo, California, delivers satellite-based TV services to U.S. customers in homes and businesses. The website provides information about how the system works, calculating the user's savings compared to other services, on-line bill payment for current customers, services, programming, and pay per view. Special offers are also described on the site.
Discovery Communications
- http://www.discovery.com
This is the website for the Discovery Channel, Animal Planet, Discovery Health, The Science Channel, The Military Channel, TLC and others. The website lists TV shows and times, news, videos, searches by subjects relevant to Discovery Communications programming, news, and access to the Discovery Shop.
Disney Online
- http://disney.go.com/
This is the website for the Disney Television Channel. Links for movies, TV, games, music, live events, travel, shop, mobile, and characters. There is also access to a Disney archive, Disney legends, and Disney careers.
Emusic
- http://www.emusic.com
Emusic had its origins in the early 1990s and became the first digital music subscription service in 2000. It allows subscribers to own, not rent, their music. It is a service that sells tracks for MP3 players, which includes IPODs. Users can download the emusic toolbar to get a free download everyday. There is also live music and access to the top charts.
Entertainment.com
- http://www.entertainment.com/
Headquartered in Troy, Michigan, Entertainment Publications is an industry leader in 50% off coupons. These include discounts for restaurants, movies, car repairs, and much more. Users search by zip code to find out what is being offered and whether or not to subscribe. The website offers several scenarios to show how actual users can save money. Users can subscribe online.
KCRW
- http://www.kcrw.com/
KCRW, a community service of Santa Monica College, is Southern California's leading National Public Radio affiliate. The website extends the station's profile globally by offering music, world news, and live station simulcast. It also has a large number of podcasts. Users to the website can also find out the station schedules, talk shows, community events and more.
Lego
- http://www.lego.com/
This is the official site of Lego, the popular building toy company that began in 1932 in Denmark. The Lego brick in its traditional interlocking form was launched in 1958. Today Legos are sold worldwide in thousands of different kinds of kits. There are also Legoland Theme Parks in four countries, including one in Carlsbad, California. Lego.com describes and sells products online.
Metacritic
- http://www.metacritic.com/
Metacritic was launched in 2001 with the stated mission of helping users make an informed decision about how to spend their money on entertainment. Metacritic is a vast database of critical information about film, video, music, games, books, and television. The website is searchable by topic. Metascores, which are a weighted average of all reviews, are provided for each film, video, etc.
MP3.com
- http://www.mp3.com/
MP3 is a music site that caters to artists who want to promote their material and to listeners. Content includes major record labels, independent music labels, fan ratings, blogs, bios, reviews and more.
MTV
- http://www.mtv.com/
MTV (Music Television) is a television station aimed particularly at a young adult audience. When it began in 1981 on American cable television in New York City, it was primarily a music site, but it has moved into other programming such as reality TV. The website covers many aspects of youth culture including movies, tv, music, personalities, news, games, and even activism.
NBC
- http://www.nbc.com/
NBC is the Internet site for the NBC TV network. Contains information about news and sports shows. Also listings of NBC television shows, schedules, and some videos of entire episodes.
News Corporation
- http://www.newscorp.com/
News Corporation is a diversified entertainment company with operations in 8 industry segments: filmed entertainment; television; cable network programming; direct broadcast satellite television; magazines and inserts; newspapers; book publishing; and other assets including MySpace, Rotten Tomatoes, Fox.com, and more.
PBS Kids
- http://www.pbskids.org/
PBS Kids is the website for children from the Public Broadcasting System. On it, kids can find out schedules for children's programming, music, games, and printable pages to color. There is also a parents site to help parents learn about child development from birth through early childhood years, and a site for teachers with free preK-12 educational resources.
PlaysForSure
- http://www.playsforsure.com/
PlaysForSure is a logo that makes it easy to find digital media stores and devices that work together. To ensure that the user is getting the correct devices or music, there is a simple check on the website which allows the user to see if his/her devices match up with the proper music site. Users can also search by device name or keyword.
Rhapsody
- http://www.rhapsody.com/
Rhapsody is a membership-based music service that gives users unlimited access to a catalog of millions of full-length, CD quality tracks. Unlike other services, Rhapsody allows users as many downloads as they like for a set monthly fee and users can burn CDs and play their MP3 players. However, Rhapsody does not work with IPods. Full explanations of their services and costs on the website.
Television Stations
- https://television-stations.regionaldirectory.us/
A television station is a media broadcasting organization that produces and transmits TV programs. This television station directory lists television stations that are located throughout the USA. Each television station listing includes a website link and contact info.
Ticketmaster
- http://www.ticketmaster.com/
Ticketmaster is the world's leading ticketing company, providing ticket sales and ticket resales, plus information about venues and events. They have sold tickets to about 100,000 events a year for the past 30 years. Users can search by artist, team, or venue or by categories. There are lists of Hot Tickets and upcoming events. Users can also read several entertainment guides.
This is the Entertainment subcategory of the Recreation category. Our editors have reviewed these web pages and placed them on this Entertainment page.