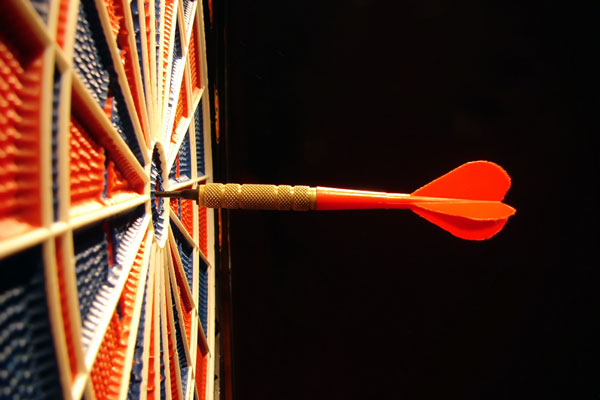 Dart Game
Links
1UP
- http://www.1up.com/
1UP is produced by Ziff-Davis. It is a source for games. Users can search by game name, platform, genre, or look at any of the online gaming magazine. Also reviews, contests, clubs, and more.
EA (Electronic Arts)
- http://www.ea.com/
EA was founded in 1982 and is headquartered in Redwood City, California. It is a leading interactive entertainment software company. The company develops, publishes, and distributes the software worldwide for videogame systems, personal computers, cellular handsets and the internet. EA supports the ratings of the ESRB rating system. The website lists all games and how to download.
Entertainment Software Rating Board
- http://www.esrb.org/
The ESRB is a non-profit, self-regulatory body established in 1994. It assigns computer and video games ratings, enforces industry-adopted advertising guidelines, and helps ensure responsible privacy practices. Their mission is to empower parents so that they can make informed decisions about the games their children play. The website explains the rating system and provides examples.
Game Rankings
- http://www.gamerankings.com/
Game Rankings is another division of Game Spot. Game Rankings takes reviews from other sites, selects the best, and uses them to compile a percentage ranking score. On the website, there are several categories such as Most Popular, Recent Additions, Platforms, Latest Reviews, a Message Board, Recommendations, and Lots of Statistics, among other things.
GameFaqs
- http://www.gamefaqs.com/
GameFaqs, a part of GameSpot, hosts FAQs and walkthroughs for video games. Users can learn about game rules, strategies, and even how to cheat. All companies with games on GameFaqs are listed. The site also runs contests, the Top 50 most searched games, and the Top 10 Lists of favorite games. There are also message boards so that gamers can communicate with each other.
GameSpot
- http://gamespot.com/
Launched in 1996, GameSpot is an online source for gaming information. Includes game reviews, new games, previews, award winning games, and much more.
GamesVille
- http://www.gamesville.com/
Gamesville ("Wasting Your Time Since 1996") is part of Lycos. There are free downloads, Top Five Online Games, Bingo and Casino, Card Games, Puzzles, Solitaire, Word and Board Games, Games for money, and more. Lycos also has parental filters so that parents can limit the access of their children.
RealArcade Games
- http://www.realarcade.com
RealArcade Games is an affiliate of RealNetworks, Inc. On this site, users can download free games and other games, including cash games. New games are added weekly, and users can also submit games for free by becoming an Affiliates from which they can earn money. Lists of games, news about games, and information about becoming an affiliate are on the website.
Second Life
- http://www.secondlife.com/
Second Life is a 3-D virtual world game entirely built and owned by its residents. Since opening in 2003, it has grown to over 9 million residents. Users can join for free but must pay membership fees to buy land and other options. On the site, users (or residents) meet people from around the world and can post blogs, join fan-sites, and much more.
Shockwave
- http://www.shockwave.com/
Shockwave is a site for downloading games. Users can search by top choices, type of game, and new games. There are many games that are free, some that offer free trials, some that may be subscribed to individually, and also an unlimited subscription service that provides free access to hundreds of games.
This is the Games subcategory of the Recreation category. Our editors have reviewed these web pages and placed them on this Games page.