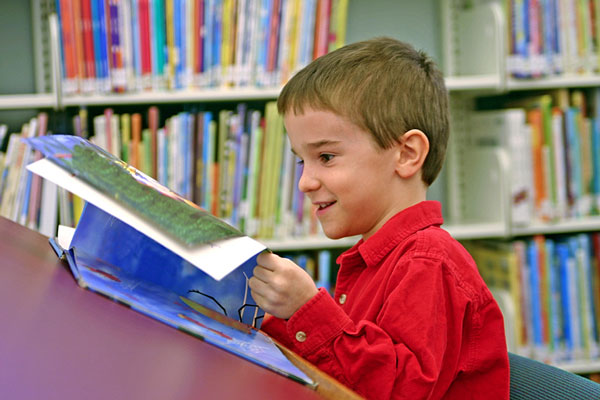 Child Reading A Library Book
Links
Internet Public Library
- http://www.ipl.org/
IPL was founded in 1995 at the University of Michigan School of Information and Library Studies. It is now run by a consortium managed by Drexel University. Users can actually ask a question on the site, and it will be answered by email complete with sources consulted. Users can also search by subject for reference guides, sources, and information. Numerous other features located on this site.
Libraries Directory
- https://libraries.regionaldirectory.us/
This directory lists public libraries and institutional libraries located in a particular State or District, including their company names, addresses, phone numbers, and website links.
Library of Congress - LOC
- http://www.loc.gov/
The United States' Library of Congress is the oldest federal cultural institution in the nation and serves as Congress' research arm. Its collections include millions of books and photos as well as recordings, maps and manuscripts.
National Library of Medicine
- http://www.nlm.nih.gov/
The NLM is the world's largest medical library. It collects materials on all areas of biomedicine and health care. The collection has 9 million items including books, journals, manuscripts, and more. It also contains a large collection of rare and old medical works. The website contains the catalog, a history of medicine, information on grants and funding, current health news, events, and more.
NetLibrary
- http://www.netlibrary.com/
NetLibrary is a division of the OCLC (the Online Computer Library Center). NetLibrary provides libraries and publishers with an e-platform on which to support ebooks, eAudiobooks, and other types of e-content. With NetLibrary, libraries can order and manage ematerials. The website contains full information about their products and services, including installation and training.
OCLC: Online Computer Library Center
- http://www.oclc.org
OCLC, located Dublin, Ohio, was founded as a cooperative library consortium. It is a non-profit, membership, computer library service and research organization. There are more than 57,000 member libraries in 112 countries. Their services include locating, acquiring, cataloging, lending and preserving library materials. Users can access WorldCat to locate items from anywhere in the world
Smithsonian Institution Libraries
- http://www.sil.si.edu/
The Smithsonian Institution Libraries, founded in 1846, is a system of of 20 branch libraries and a central support services that includes a Book Conservation Laboratory and an Imaging Center. The website lists the collection strengths and has several ways to access the collection online. There are also featured sites and information about events and programs.
University of Wisconsin-Madison Libraries
- http://library.wisc.edu/
The website provides access to the resources of the University library. Users can search the catalog (MadCat), search for articles, find ejournals, subject guides, and much more. Non-University members must log-on to the online databases and journals.
WWW Virtual Library
- http://www.vlib.org/
The Virtual Library is the oldest catalogue on the web, created in 1991 by Tim Berners-Lee, the creator of HTML. The virl.org links pages that exist on hundreds of different servers around the world. The Library is arranged by subject.
This is the Libraries subcategory of the Reference category. Our editors have reviewed these web pages and placed them on this Libraries page.