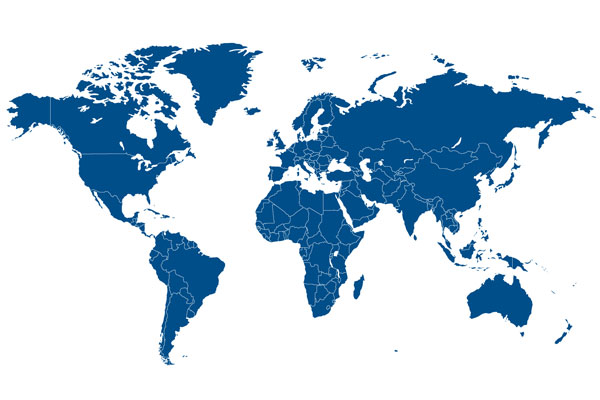 World Map
Links
Google Maps
- http://maps.google.com/
Provides interactive maps and detailed satellite imagery of the United States, as well as driving directions.
MapQuest
- http://www.mapquest.com/
Find point to point driving directions and view worldwide city and regional maps. Display street addresses, view business locations, and plan car trips.
Maps and Directions
- https://www.mapsanddirections.us/
This website includes information about maps and cartography, including map projections and the history of maps. There are links to selected map and direction websites, such as MapQuest, as well as to map publishers such as Rand McNally and Hammond, where users can purchase maps. Also included are links to printable maps of the USA and Canada.
National Atlas of the United States
- http://www.nationalatlas.gov/
This United State government map portal provides access to maps produced by government agencies such as the USGS, Census Bureau, Forest Service, NOAA, and National Park Service.
Online Atlas
- https://www.onlineatlas.us/
Online Atlas is a collection of general reference maps, thematic maps, and geographical information. Users can search by State to find a map of the state and specific information regarding history, trivia, and travel sites. There are also links to road maps, US Museums, and a US Picture gallery. Other links to a State Map Directory, World Atlas, America's Byways, and more.
Shaded Relief
- http://www.shaded-relief.com/
This interactive relief map and satellite map displays topographical and vegetation features. Names of countries, states, and major cities are shown, along with major roads at detailed zoom levels.
State Maps
- https://www.state-maps.org/
This state map portal offers free access to political, topographical, and relief maps to all the states in the U.S. By clicking on the U.S. map or a listing of individual states, a user can find travel information and maps. There are links to state government map sources, and to related information about United States phone area codes and maps.
TerraFly
- http://www.terrafly.com/
View detailed areas of the United States from an aerial perspective.
TerraServer
- http://www.terraserver.com
View topographical maps and aerial photos of the United States. The zoom feature on these maps enables visitors to view detailed maps as well.
U.S. Board on Geographic Names
- http://geonames.usgs.gov/
This is the official standard for geographic names used by the Federal government. Contains cultural and physical aspects of each geographic area as well as the official name and other geographic aspects.
United States Maps
- https://www.united-states-map.com/
This website offers a broad spectrum of maps of the United States. Users can find a series of printable maps including road maps and topological maps, among others. There are also links to companion sites that offer U.S. maps and information. Also available are maps from the Federal Highway Association and the Census Bureau.
World Atlas
- https://www.world-atlas.us/
This website provides an overview of the kinds of atlases available for countries around the world. The site has links to World Atlas sites such as CIA World Fact Book and National Geographic Map Machine. There are also links to sites that provide maps with travel information; these are listed by continent.
This is the Maps subcategory of the Reference category. Our editors have reviewed these web pages and placed them on this Maps page.