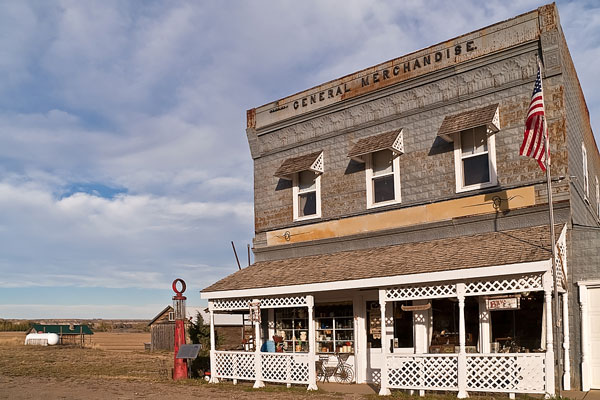 Historic Store Offering General Merchandise
Links
Catalog Shopping
- https://www.catalogshopping.us/
This website discusses some of the history of catalog merchandising in America. The early catalogs became a way for retailers to reach people who lived in rural areas, who could send away and receive by mail items that they ordered. Today, much of this catalog business has been overtaken by the online catalog market. Visitors to catalogshopping.us can find links to online consumer goods and services catalogs.
Costco
- http://www.costco.com/
Costco is an international chain of membership warehouses that sells brand name products for less. They currently have 518 warehouses, in 383 locations in the U.S., and 49 million cardholders. On the website, users can find store locations, browse products in dozens of categories, and order items online. There is also a link to manufacturers' rebates where users can print off rebate forms.
Department Stores Directory
- https://department-stores.regionaldirectory.us/
This department store directory lists department stores and department store chains throughout the United States of America, organized by State and County. Each department store listing includes a website link and contact information.
Factory Outlets
- https://factory-outlets.regionaldirectory.us/
Factory outlets are retail stores in which manufacturers sell their products directly to the public, sometimes at substantial discounts. This factory outlet directory lists factory outlet stores that are located throughout the USA. Each factory outlet listing includes a website link and contact information.
Home Shopping Network
- http://www.hsn.com/
HSN.com, located in St. Petersburg, Florida, is the official website for the Home Shopping Network. On the website, users can view and purchase thousands of products, check HSN television schedules, search by category, find out about returns and other consumer information, find out about special promotions, check recent products from TV shows, and much more.
Macy's
- http://www.macys.com/
The first Macy's store was opened in New York City in 1858. The website was launched in 1997. Today there are over 800 stores across the U.S. Bloomingdale's is now also owned by Macy's Inc. On the website, users can see weekly specials, browse by type of item wanted, and order online. There is also a gift registry and a link to store locations.
MySimon
- https://www.mysimon.com/
My Simon, part of the CNET Networks, is an internet shopping site. It provides comparison pricing and one-stop shopping on the web. Shoppers can find out about new products and to find the lowest prices on almost anything. Users can search the website by item or by category. There are also special shopping guides for some products such as back to school needs, and more.
Overstock.com
- http://www.overstock.com/
Overstock is an internet leader for brand names at clearance prices. Users can shop by item, by brand, and by price. There are also links to travel, cars, and auctions. Users with items to sell can contact Overstock via this web site.
Sam's Club
- http://www.samsclub.com/
Sam's Club opened its first store in 1983 in Midwest City, Oklahoma. Today there are over 47 million members and over 680 clubs in the U.S. and overseas. Sam's Club is a membership-based chain of stores that offers a large selection at low cost, based on low overhead. Users to the website can find Sam's Club locations and join online. Their products can also be searched online.
Shop.com
- http://www.shop.com/
Shop.com, with headquarters in Monterey, California and founded in 2004, is a multi-merchant online marketplace where users can shop for thousands of well-known brands on a single site using a single account. Shop.com utilizes the patented OneCart Universal Shopping Cart technology. Many well known companies such as Petco and Lucky Brand Jeans are available on Shop.com.
ShopLocal
- http://www.shoplocal.com/
ShopLocal, with headquarters in Chicago, is a leader in multi-channel shopping services. Users enter a location and number of miles they are willing to travel, and ShopLocal provides access to products in stores within those geographical boundaries. Once they have entered a location, users shop by product category.
Target
- http://www.target.com/
Target opened its first store in 1962 in Roseville, Minnesota. Today there are approximately 1500 stores in 47 states, including 175 super stores that have grocery departments. Target.com provides online shopping for clothing, home, bed and bath, college, kitchen, furniture, toys, electronics and more. The website also features weekly specials and new items.
The New York Times Store
- http://www.nytstore.com/
The New York Times Store offers hundreds of products from books to classic photographs, reprints of vintage news to posters. Users can browse by categories: sports, photographs, fine art, autographs, keepsakes, crosswords, clothing, publications, historic pages, and much more.
WalMart.com
- http://www.walmart.com/
Walmart.com is a subsidiary of Walmart Stores, Inc., located in Silicon Valley. Walmart offers low prices and a wide variety of products. On the website, shoppers can choose from over 1 million items. Also on the website is information about finding a store, Walmart facts, information about orders, and much more.
This is the General Merchandise subcategory of the Shopping category. Our editors have reviewed these web pages and placed them on this General Merchandise page.