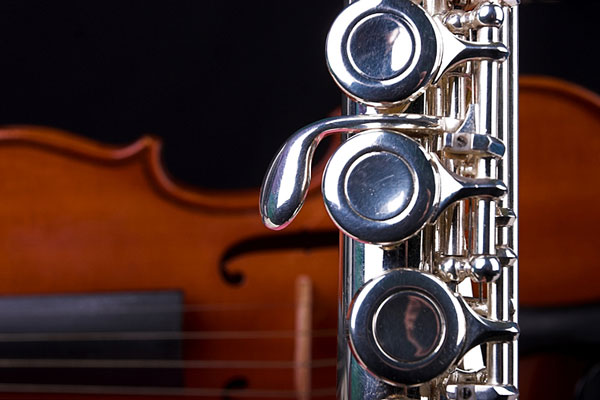 Violin And Flute
Links
Acoustic Guitar Construction and Music Tabs
- https://www.acoustic-guitars.us/
Introduction to acoustic guitar construction methods and components, with an overview of acoustic guitar music styles and tablature. Links to acoustic guitar string and sheet music suppliers are included on the website.
(Stringed Instruments)
Acoustic Guitar Overview and History
- https://www.acousticguitars.us/
Introduction to acoustic guitars and their history, with links to acoustic guitar dealers, manufacturers, and reviews.
(Stringed Instruments)
Allen Organ
- http://www.allenorgan.com/
When a congregation expresses its faith through music, the organ is an instrument that can produce a sound as elemental and exuberant as its celebration. Allen Organ Company produces an extensive selection of electronic organs for concert halls, churches, and homes.
(Organs)
Burgess Violins
- http://www.burgessviolins.com/
David Burgess is a well-known maker of violins, violas, and cellos. He has established a large body of expert consensus about the tonal, artistic, and functional merit of his stringed instruments.
(Stringed Instruments)
Craviotto Drums
- http://www.craviottodrums.com/
Craviotto Drum Company manufactures handcrafted, steam bent, solid shell snare drums, drum sets, and concert percussion instruments.
(Percussion Instruments)
Dobson Organ
- http://www.dobsonorgan.com/
For more than three decades, Dobson Pipe Organ Builders has constructed pipe organs for churches, schools, public spaces, and private individuals.
(Organs)
Guitar Center
- http://www.guitarcenter.com/
Guitar Center stores offer a large selection of guitars, basses, amplifiers, keyboards, workstations, drums, percussion, PA systems, DJ equipment, stage lighting, recording software, and studio gear.
John Packer Musical Instruments
- http://www.jpmusicalinstruments.com/
John Packer are international designers, manufacturers and suppliers of woodwind and brass musical instruments to the trade and retail industries. Their instruments have a strong reputation among wind instrument players for their innovative design enhancements.
(Wind Instruments)
Keyboard Instruments
- https://keyboard-instruments.regionaldirectory.us/
A keyboard instrument is a musical instrument that is played by means of a keyboard. Common keyboard instruments include pianos, organs, and synthesizers. This keyboard instruments directory lists music keyboard instrument suppliers that are located throughout the USA. Each keyboard instrument vendor listing includes a website link and contact info.
Music Keyboards
- https://www.musickeyboards.us/
Broadly speaking, music keyboards refer to instruments which have depressible keys to produce sounds. Traditional keyboards include pianos (a category that includes uprights, grand pianos, and spinets) and organs. Digital keyboards use computer technology to produce sound and are smaller and more portable than traditional keyboard instruments. This website discusses keyboard instruments and MIDI (Musical Instrument Digital Interface), and provides links to musical keyboard suppliers.
Pasi Organs
- http://www.pasiorgans.com/
Pasi Organ Builders, located near Seattle, Washington, specializes in building mechanical action organs and in restoring historic instruments.
(Organs)
Roland
- http://www.rolandus.com/
Roland Corporation is a manufacturer and distributor of electronic musical instruments, including keyboards and synthesizers, guitar products, electronic percussion, digital recording equipment, amplifiers, and audio processing devices.
(Synthesizers)
Steinway
- http://www.steinway.com/
Steinway, founded in 1853, strives to make fine pianos; their instruments are well-known for their superior sound and responsive touch.
(Pianos)
This is the Musical Instruments subcategory of the Shopping category. Our editors have reviewed these web pages and placed them on this Musical Instruments page.