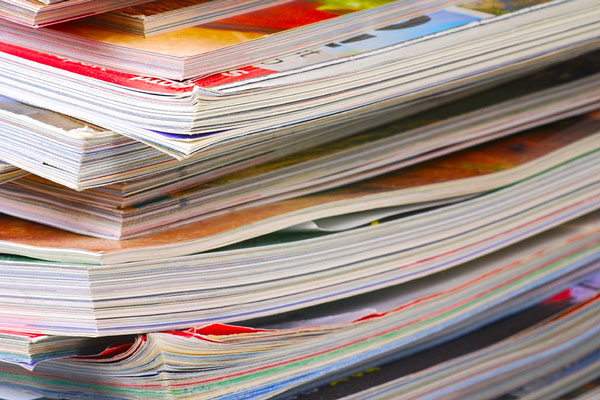 Stack Of Magazines
Links
American Periodicals
- http://www.amperiodicals.org/
Official publication of the Research Society for American Periodicals. The society is an organization for those interested in American newspapers and magazines.
Businessweek
- http://www.businessweek.com/
A well-known business publication. It prints business news, trends, and profiles of successful business people as well as global economic, technology, politics, and other market and finance news.
Coastal Living Magazine
- http://www.coastalliving.com/
This magazine features homes, travel, food, and lifestyle for those living near the shoreline of oceans or lakes.
Cooking Light Magazine
- http://www.cookinglight.com/
Cooking Light magazine features articles about how to cook various food recipes using healthy ingredients. It also explains some basic cooking skills.
Down East Magazine
- http://www.downeast.com/
Down East is the magazine of Maine. It includes articles on the culture, food, travel, and real estate of Maine. It's an interesting magazine for anyone who likes or wants to visit Maine.
Periodicals Service Company
- http://www.periodicals.com/
PSC is a reprinter of academic journals that specializes in the supply of antiquarian backsets, back volumes and back issues of out-of-print journals and serials.
This Old House Magazine
- http://www.thisoldhouse.com/toh/
Expert advice on remodeling, home improvement, and home upgrades is featured in This Old House magazine.
This is the Periodicals subcategory of the Shopping category. Our editors have reviewed these web pages and placed them on this Periodicals page.