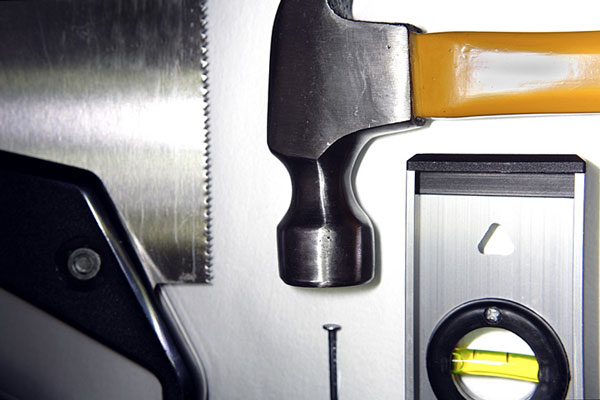 Carpentry Tools - Hammer, Saw, And Level
Links
Cordless Drills
- https://www.cordlessdrills.us/
Cordless drills are great for light to medium duty drilling. For heavy jobs, a corded drill is necessary. This website explains the different kinds of cordless drills and the features a consumer can look for in choosing one. There is a link to OSHA guidelines on handheld drill operation and also to cordless drill brands.
Electric Tools
- https://electric-tools.regionaldirectory.us/
Electric tools, the most common type of power tools, are tools that are powered by electricity. This electric tool directory lists electric tool suppliers that are located throughout the USA. Each electric tool vendor listing includes a website link and contact information.
Machinist Tools Guide
- https://www.machinist-tools.org/
Introduction to machinist tools, which are also known as machine tools. Rotary machinist tools include turning lathes, capstans, and turrets as well as drills, milling machines, and grinding wheels; linear machinist tools include shapers and slotting machines as well as planes and surface grinders.
Miniature Tool Guide
- http://www.miniature-tools.com/
Miniature power tools are designed to be light and easily held by hand; they rarely have cutters that exceed 5 mm in diameter. Not only do these tools allow for precise work, most of them offer a wide range of cutters, so that one tool can be used for sawing, drilling, routing, carving, engraving, shaping, smoothing, polishing, and more.
Pfingst Dental Burs and Jewelry Burs
- http://www.pfingstco.com/
USA-based manufacturer and distributor of carbide burs and high-speed steel burs for the dental profession and the jewelry-making trade. The website features a comparison chart that shows bur shapes and their typical applications.
Polishing Tools Guide
- http://www.polishing-tools.com/
Guide to polishing tools that jewelers and craftsmen use to polish the surfaces of precious metals, resins, composites, stones, and other materials. Polishing wheels, wire brushes, buffing wheels, and grinding stones are among the tools discussed on the site. Links to polishing tool vendors are included.
Rotary Tools
- https://www.rotary-tools.org/
Rotary tools are handheld power tools with rotating bits, with hundreds of parts and accessories that are used for drilling, sanding, carving, cutting, grinding, or routing. They are used in many ways by all kinds of workmen from hobbyists to jewelers. This website provides an overview of the tool, types available, and uses. There are also links to rotary tool manufacturers.
Table Saws
- http://www.tablesaws.us/
A table saw is a circular blade that is mounted in a slit on a table. Unlike a handsaw, the circular saw is stationary and it is the board that is moved along the blade. There are a number of kinds of table saws from lightweight portable ones to heavy duty cabinet saws that do not move. Hybrid saws combine features of both. There are also important safety considerations with table saws, which are discussed on this website. The site also provides links to table saw manufacturers.
Tool Boxes
- https://www.tool-boxes.us/
A tool box can help keep tools organized and easy to find. Website visitors can learn about portable tool boxes and free-standing tool chests used by tradespeople and homeowners. They can also browse selected tool box suppliers and compare a broad range of tool box styles and sizes.
Tool Videos
- http://vimeopro.com/zeducorp/tools
Overview of basic tools plus a video portfolio of tools in operation. A discussion of basic power tools and hand tools is included on the page.
This is the Tools subcategory of the Shopping category. Our editors have reviewed these web pages and placed them on this Tools page.