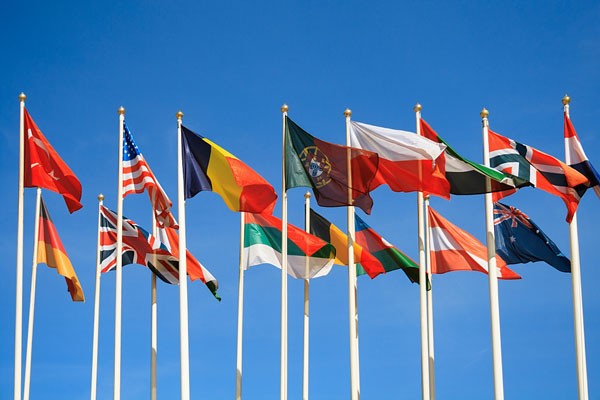 National Flags Flying Against A Blue Sky
Links
British Council
- http://www.britishcouncil.org/
The British Council is a nonprofit organization whose purpose is to build mutually beneficial relationships between the people of the UK and other countries. The Council has sponsored English language programs and other development ventures around the world. The website describes the Council, its programs, how to work with them, and more.
Directgov
- http://www.direct.gov.uk
Directgov, launched in 2004, provides public service information and access to public service sectors. The website contains a guide to the government including the monarchy, directories for contacts for public service organizations, charity and volunteer groups, health and well-being, calculators for determining the cost of raising a child, and much more.
EUROPA - Gateway to the European Union
- http://www.europa.eu
This is the official website of the European Union (EU). It describes what the EU is, what is does, and what an EU citizen's rights are. The website also presents news from EU countries. All languages served by the EU are available on this site.
Organization of American States
- http://www.oas.org/
The OAS was formally established in 1948, though it has its roots in earlier efforts. It was made up of 35 nations, 34 since Cuba was dropped, and four official languages. The purpose of the OAS is to strengthen cooperation on democratic values, defend common interests, and debate major issues facing the region and the world. On the website, users can find information and up-to-date news.
UNESCO
- http://www.unesco.org/
UNESCO, the United Nations Educational, Scientific and Cultural Organization, was founded in 1945 as a specialized United Nations Agency. UNESCO works on such problems as worldwide literacy, education, the elimination of poverty, and helping nations reach sustainability. The website is the source for finding out about their projects, publications, and history.
United Nations
- http://www.un.org/
This is the website for the United Nations, located in New York City. The UN was begun in 1945 with the goal of maintaining world peace and to provide a forum for countries to work together on global problems. There are 192 member nations in the General Assembly, and 5 permanent members of the Security Council of which the U.S. is one, plus 10 non-permanent members with one year terms.
This is the Nations subcategory of the Society category. Our editors have reviewed these web pages and placed them on this Nations page.