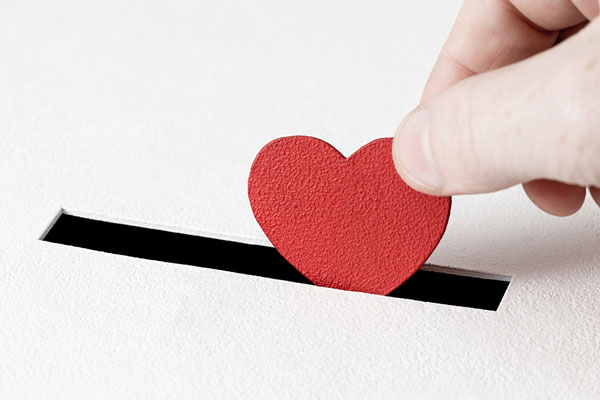 Hand Placing A Red Heart In A Donation Slot
Links
American Red Cross
- http://www.redcross.org/
The American Red Cross was founded by Clara Barton in 1881 as an emergency response organization. Today the Red Cross also helps the needy, supports military families, collects and distributes blood, provides educational programs, and works abroad. The website provides a history of the organization, news about Red Cross activities, volunteer opportunities, a museum, a store, publications and more.
Animal Shelters
- https://animal-shelters.regionaldirectory.us/
This animal shelter directory includes animal shelters and animal protection services throughout the United States. Each animal shelter organization listing includes a website link and contact information.
Corporation for National and Community Service
- http://www.nationalservice.org/
The Corporation was founded in 1993 to connect Americans with opportunities to volunteer their services. There are three major programs within the Corporation: Senior Corps, AmeriCorps, and Learn and Serve America. All three programs are described on the website as well as news stories, special projects, and how to get involved.
GuideStar
- http://www.guidestar.org/
Guidestar's mission is to provide information about non-profits so that users can find out about individual organizations to help in making philanthropic decisions. There are 1.5 million organizations in the database, and around 212,000 subscribers to the GuideStar newsletter. GuideStar also provides research analysis such as a "charity check," "Grant Explorer," "Analyst Reports," and much more.
Idealist.org
- http://www.idealist.org/
Idealist.org is a project of Action Without Borders, which was founded in 1995. Their mission is to connect people, organizations and resources to improve the world. The site lists over 62,000 nonprofit and community organizations in 165 countries. It also lists volunteer opportunities locally and around the world. The history of the organization and much more on the website.
International Federation of Red Cross and Red Crescent Societies
- http://www.ifrc.org/
The IFRC was founded in Paris in 1919 during the aftermath of WWI. Before that, the Red Cross was founded in 1859. The IFRC works in four areas: promoting humanitarian values; disaster response; disaster preparedness; and community health care. Users can find out about the history, volunteering, donating, jobs, meetings, publications, how to help and much more on the website.
Network for Good
- http://www.networkforgood.com/
The purpose of this website is to bring together donors, volunteers, and charities online to accomplish good. Users can donate to more than 1 million charities and search from more than 36,000 volunteer opportunities. Network for Good was founded in 2001 and is located in Bethesda, Maryland. Users can search by charity name, type of charity, or by state.
Nobel Prize
- http://www.nobelprize.org/
This is the official website of the Nobel Foundation. It provides a detailed history of the prize and all its winners since its inception in 1901. There are biographies, interviews, articles, photos, and more. There have been 107 Nobel Peace Prizes awarded, and there is an extensive section of background and history on this award. Users can browse sites for specific prizes, find games, and more.
ONE: The Campaign to Make Poverty History
- http://www.one.org/
The ONE Campaign was launched in Philadelphia by the U2 rock musician Bono. To date there are over 2.4 million people and many well-known charitable organizations and celebrities involved in this effort to end world poverty. ONE is a nonpartisan, nonprofit, asking the Government to comply with the Millennium Development Goals by 2015. These goals will reduce poverty around the world.
Peace Corps
- http://www.peacecorps.gov/
This is the official website for the Peace Corps, which began in the 1960s under President Kennedy. To date there have been 187,000 volunteers serving in 139 countries. The oldest volunteer is 79. The website provides information about the Peace Corps and how to become a volunteer. There are also links to sites for former volunteers to stay in touch and for families of volunteers.
ReliefWeb
- http://www.reliefweb.int/
This site was launched in 1996 and is administered by OCHA, the UN Office for the Coordination of Humanitarian Affairs. The site disseminates information about both current and forgotten humanitarian emergencies. On the site are headlines, countries and emergencies, the latest natural disasters, appeals and funding, policy and issues, maps and professional resources.
The Hunger Site
- http://www.hungersite.com/
The Hunger Site was started in 1999 as an attempt to launch the power of the internet to end world hunger. The site provides ways of donating or purchasing products that will help fund projects around the world. There are also links to other causes such as breast cancer, child health, and more. Users can also find specific information on the projects, artisans, and teacher resources.
U.S. Aid
- http://www.usaid.gov/
In 1961 President Kennedy established the U.S. Agency for International Development. USAID is an independent federal government agency that receives foreign policy guidance from the State Department. The website has links to some of the projects that USAID is engaged in, which include initiatives in healthcare, agriculture and economic development. There is also a link to careers with USAID.
UNICEF
- http://www.unicef.org/
UNICEF was founded in 1946 by the United Nations to help the many children facing famine and disease after WWII. UNICEF's mission is to help children wherever they need it. It provides housing, food, and clothing. It promotes education, especially in places where it is denied to girls. It is involved in health care issues and immunizations. The website describes UNICEF's history and projects.
This is the Philanthropy subcategory of the Society category. Our editors have reviewed these web pages and placed them on this Philanthropy page.