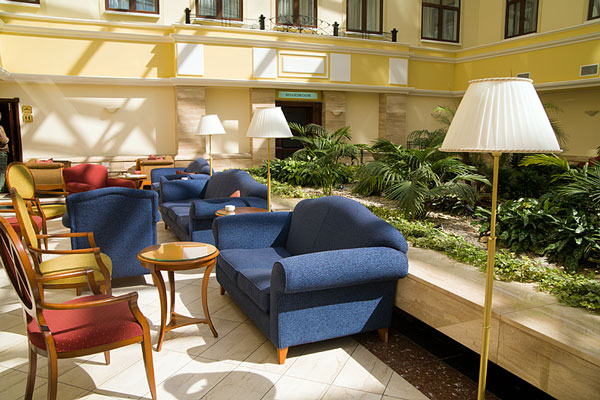 Hotel Lobby
Links
BedandBreakfast.com
- http://www.bedandbreakfast.com/
This bed and breakfast directory allows travelers to search for accommodations by location, amenities, date, and availability. They can then book online. This site is owned by HomeAway, Inc.
(Bed and Breakfasts)
Best Western International Hotels
- https://www.bestwestern.com/
Best Western International is the world's largest hotel brand with over 4,200 hotels in 80 countries. On the website, users can find a hotel by location, check reservations, look at special deals and offers, and find out about careers with the company. Best Western is also the official hotel for Nascar.
Carmel Valley Ranch
- http://www.carmelvalleyranch.com/
The Carmel Valley Ranch is located in the Carmel Valley in California. It offers golf, hiking trails, vineyards, and pools.
(Resorts)
Chatham Bars Inn Resort and Spa
- http://chathambarsinn.com/
The Chatham Bars Inn Resort and Spa is located in Chatham, Cape Cod, Massachusetts. There is a Historic Main Inn as well as Cottage Rooms and Spa Suites. Every modern amenity is available while still retaining old world charm. Dining overlooks the water.
(Resorts)
Choice Hotels
- http://www.choicehotels.com/
Choice hotel is the franchiser of many hotels including Quality Inn, Comfort Inn and others. Users can make reservations, search for hotels in any location, see the kinds of business and meeting arrangements that are available, and sign up for the rewards program, among other things.
Enchantment Resort
- http://enchantmentresort.com/
Enchantment Resort is a Sedona, Arizona resort and spa. This southwest resort and hotel has stunning views of Arizona's red rocks. The resort offers superb accommodations, spa services, dining, and hiking trails.
(Resorts)
FlipKey
- http://www.flipkey.com/
Find an apartment, condo, or home to rent on FlipKey. They make it easy to find and book vacation rental places throughout the world. Owners are verified by FlipKey staff.
(Vacation Rentals)
Hilton Hotels
- http://www.hilton.com/
The Hilton company began in 1919 when Conrad Hilton opened his first hotel in Cisco, Texas. Today there are over 500 hotels worldwide. The Company also owns Conrad Hotels, Doubletree, Embassy Suites and others. On the website, users can find Hilton locations, book rooms, check specials and find out about other Hilton brand hotels. The website also has information about air-car-lodging packages.
HomeAway
- http://www.homeaway.com/
HomeAway is a vacation rental marketplace based in Austin, Texas. It has paid listings of vacation rental homes in numerous countries. It's an alternative to traditional hotel accommodations.
(Vacation Rentals)
Hotel Reviews
- https://www.hotelreviews.us/
This site provides information about choosing hotels and types of hotel reward services. There are links to reviews about hotels such as Trip Advisor and Hotel Shark, and links to the major hotel chains such as Hyatt, Hilton, and Starwood with short descriptions. There is also a link to Hotel Suites for travelers who want more than just a room.
Hotels.com
- http://www.hotels.com/
The Hotels.com website says "we know hotels inside and out." Hotels.com works out of Expedia, Inc. They have over 70,000 properties worldwide from B&B's to hotels to condos to resorts. Users can search by location, type of accommodation, specials, vacation packages that include airfare and/or automobile rental, and much more.
InterContinental Hotels
- http://www.ichotelsgroup.com/
InterContinental Hotels Group is an international hotel company. They have over 560,000 hotel rooms in 3,800 hotels in more than 100 countries. IHG operates Holiday Inn, Crowne Plaza and others. Users to the website can find hotels, make reservations, and find out about packages. There is a link to information about meetings and groups and also information about the Priority Club.
Marriott
- https://www.marriott.com/
This is the website for the Marriott hotel chain. On the site, users can find Marriott hotels around the world, book reservations, book car rentals and air flights, book vacation packages, find out about wedding packages, timeshares, book accommodations for events and meetings, sign up for Marriott Rewards, visit thei Marriott store, and much more.
Mission Point Resort
- http://www.missionpoint.com/
Mission Point Resort is located on historic Mackinac Island, Michigan. Mackinac Island prohibits motor vehicles on the island which lends the island a historical character. Primary methods of transportation are bicycles, walking, hiking, and horse-drawn carriages.
(Resorts)
Omni Hotels & Resorts
- http://www.omnihotels.com/
Omni Hotels & Resorts has luxury hotels and resorts in destinations across North America. They offer resorts in locations on Amelia Island, FL, Asheville, NC, Austin, TX, and Hilton Head, SC, among others. Golf, skiing, spa, or beach locations are available.
(Resorts)
Sandals Resorts International
- http://www.sandals.com/
Sandals has luxury all-inclusive resorts on the Caribbean islands of St. Lucia, Antigua, Grenada, Jamaica, Turks and Caicos, and the Bahamas. All resorts sit on stunning beaches.
(Resorts)
Select Registry
- http://www.selectregistry.com/
Select Registry helps travelers find distinguished inns in North America. They represent fine country inns, B&Bs, and unique small hotels.
(Bed and Breakfasts)
Sofitel Hotels and Resorts
- http://www.sofitel.com/
The first Sofitel hotel opened in 1964 in Strasbourg, France and in the U.S. in 1974 in Minneapolis. Sofitel is the prestige brand of Accor hotels with 200 hotels in 53 countries. On the website, users can book rooms, find out about specials and vacation packages, and see what is meant by "The World of Sofitel."
Stone Hill Inn
- http://www.stonehillinn.com/
The Stone Hill Inn located in Stowe, Vermont, offers luxury accommodation and sunlit breakfasts in a quiet, secluded location. It is surrounded by woods on 9.5 acres. Stowe has legendary skiing, restaurants, and shops.
(Bed and Breakfasts)
Sunrise Villa
- http://www.sunrise-villa.com/
This luxury vacation villa in the Dominican Republic features oceanfront accommodations.
(Vacation Rentals)
The Artist's Inn & Gallery
- http://www.artistinn.com/
The Artist's Inn is located in the heart of Pennsylvania Dutch Country. The Federal-style home was built in 1848 and is surrounded by Amish and Mennonite farms. This is a romantic country inn.
(Bed and Breakfasts)
Vacation Home Rentals
- https://vacation-home-rental.regionaldirectory.us/
Vacation homes can enable families to spread out and enjoy their vacation times together. This vacation home rentals directory includes vacation home rental agencies and services that are located throughout the United States. Contact information, website links, and category tags are specified with each listing.
(Vacation Rentals)
Villarenters - Houses in Tuscany
- http://www.villarenters.com/villas-to-rent/tuscany/default.htm
Thousands of holiday rental properties worldwide, book on line direct with owner and pay by credit card.
(Vacation Rentals)
WaterColor Inn & Resort
- http://watercolorresort.com/
The WaterColor Inn is located in Santa Rosa Beach, Florida. This inn is along the sugar white sand and emerald green waters of Northwest Florida. There are many activities for adults and kids.
(Resorts)
Wintergreen Resort
- http://www.wintergreenresort.com/
Wintergreen Resort offers mountaintop lodging in the Blue Ridge Mountains of Virginia. Golf, tennis, and winter sports are available. Various lodging packages make a great escape for the family.
(Resorts)
This is the Lodging subcategory of the Travel category. Our editors have reviewed these web pages and placed them on this Lodging page.