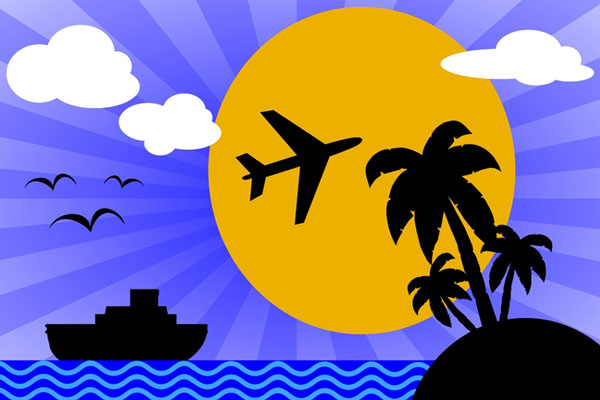 Travel Agency Poster
Links
Classic Vacations
- http://www.classicvacations.com/
Classic Vacations offers luxury travel packages to Hawaii, the Caribbean, Mexico, Costa Rica, Europe, and the South Pacific. The company is based in California and is an operating company of Expedia. On the website, users search by location to find luxury accomodations, restaurants, and attractions. All booking can be done online.
Expedia
- http://www.expedia.com/
Expedia is an online travel agency. Users can book flights, hotels, cars, vacation packages, cruises and more online. The site also has a link to special deals and destinations. Expedia guarantees the lowest price.
Group Tours to India - India Unbound
- https://www.indiaunbound.com.au/
India Unbound offers various small group tours to different places in India along with Kerala Tours, South India Tours and Rajasthan Tours.
Hotwire
- http://www.hotwire.com/
Hotwire is an online travel agency that offers discount airfares, hotel reservations, car rentals, and vacation packages. The company is able to offer low prices because they are in contact with airlines and hotels who let them know about empty seats and unsold rooms, which Hotwire then offers at a discount. Also on the website are special deals and sign-up to receive news by email.
Kayak
- http://www.kayak.com/
Kayak is an online travel search engine, not a booking site. On the site users can search for cheap airline fares. There are also links to car rentals, hotels, and special deals. Kayak searches over 100 sites and offers comparisons with online travel sites such as Travelocity and Priceline. Once the user decides, Kayak links to the site where the user can do the booking.
lastminute.com
- http://us.lastminute.com
This is an online travel and entertainment agency. Aside from last minute deals, the site offers other kinds of travel arrangements. Users can search by type of travel such as Romance, Food and Wine, under $250, and more. There are also links to sites for restaurants, events, museums and much more.
Lonely Planet
- http://lonelyplanet.com/
Lonely Planet, headquartered in Australia, began with one travel book over 30 years ago. Today it is a large travel guidebook publishers, popular with backpackers. Besides travel books, the website also offers bookings, information about destinations, hotels, hostels, blogs, travel stories, a store and much more. There is also information about writing a travel book for them on the website.
Orbitz
- http://www.orbitz.com/
A leading online travel company offering a selection of low air fares, lodging, car rentals, cruises, vacation packages and other travel. The website is user friendly; searching is easy. Orbitz books the travel arrangements and keeps up to date information about cancellations and delays.
Priceline
- http://www.priceline.com/
Priceline is an online travel agency that offers users the option of naming their own price and seeing if the airline will accept it. Priceline also offers low prices for consumers who are willing to be flexible with the times and dates of their travel. They also offer bookings for hotels, car rentals, vacations, cruises, and more.
TimeshareRentalMarket.com
- http://www.timesharerentalmarket.com/
TimeshareRentalMarket.com offers low-priced rentals located in destinations worldwide at popular brands like Marriott, Westin, Sheraton, and more. Each unit available on their site is for rent by owner, meaning prices are lower than if booked direct from the resort. Inventory can be searched by price, location, and date which makes it easy to find the perfect rental.
Travel Agents Directory
- https://travel-agents.regionaldirectory.us/
This directory lists travel agents and agencies located in a particular State or District, including their company names, addresses, phone numbers, and website links.
Travelocity
- http://www.travelocity.com/
On the website, users can book air flights, hotels, rent cars, get train tickets, and book cruises. There is also information about popular destinations and special deals. Users can check flight schedules and find out about the latest rules in airplane security. Also on the site is a Gnome Store where users can purchase gnomes and other items.
This is the Travel Agencies subcategory of the Travel category. Our editors have reviewed these web pages and placed them on this Travel Agencies page.