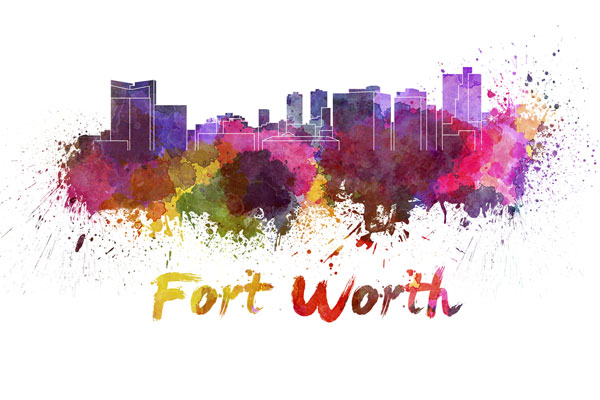 Fort Worth Skyline - Watercolor Painting
Links
City of Fort Worth
- http://www.fortworthgov.org/
The official city government web site of Fort Worth features information about city services for business, residents, and visitors. Learn about the Fort Worth, Texas municipal government departments and online services.
Fort Worth Convention and Visitors Bureau
- http://www.fortworth.com/
Fort Worth boasts an unmistakable mix of Western heritage and artistic offerings. Visitors can explore various attractions, such as world-class museums and the historic Stockyards. Founded in 1965, the Fort Worth Convention & Visitors Bureau's mission is to advertisie and market Fort Worth as a business and leisure destination, enriching Fort Worth's hospitality industry and the community's overall quality of life.
Fort Worth Information and Maps
- https://www.regionaldirectory.us/tx/cities/fort-worth-texas.htm
This Fort Worth page includes census data and interactive city maps plus a directory of categorized product and service providers in the city of Fort Worth, Texas.
Fort Worth Star-Telegram
- http://www.star-telegram.com/
The Fort Worth Star-Telegram is a daily newspaper serving the Fort Worth, Texas, area and western North Texas.
This is the Fort Worth subcategory of the US Cities category. Our editors have reviewed these web pages and placed them on this Fort Worth page.