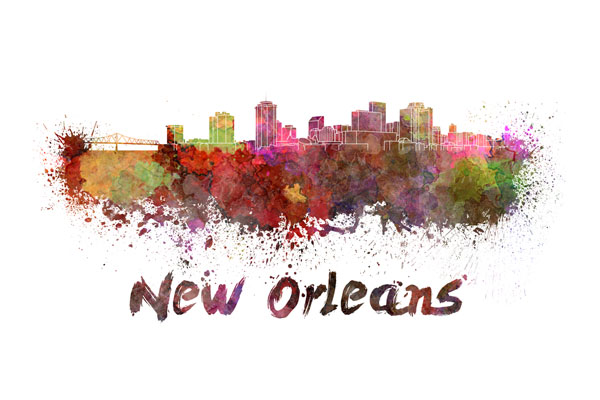 New Orleans Skyline - Watercolor Painting
Links
City of New Orleans
- https://www.nola.gov/
Learn about the New Orleans city government and its departments, agencies, and operations. Read about the hurricane recovery efforts and find information about services for New Orleans, Louisiana residents, visitors, and businesses.
New Orleans Convention and Visitors Bureau
- http://www.neworleanscvb.com/
The New Orleans Convention & Visitors Bureau is a nationally accredited destination marketing organization and economic development corporation. The NOCVB attracts visitors, special events, and conventions to New Orleans and the surrounding area.
New Orleans Guide and Maps
- https://www.regionaldirectory.us/la/cities/new-orleans-louisiana.htm
This New Orleans information page includes census data and interactive city maps plus a directory of categorized product and service providers in the city of New Orleans, Louisiana.
The Times-Picayune
- http://www.nola.com/
The Times-Picayune is a newspaper published in New Orleans, Louisiana. The daily newspaper has been published since 1837. It is printed in both broadsheet and tabloid formats on different days of the week. The Times-Picayune won the Pulitzer Prize for Public Service in 2006 for it coverage of Hurricane Katrina.
Towing New Orleans LA
- http://www.babykaitlyntowingservice.com/
Baby Kaitlyn Towing Service LLC offer a wide bouquet of towing services - from local towing, motorcycle towing, towing of classic and other cars as well as RVs to vehicle recovery, moving equipment, jumpstarting and battery charging, tire changes, fuel delivery and much more.
This is the New Orleans subcategory of the US Cities category. Our editors have reviewed these web pages and placed them on this New Orleans page.