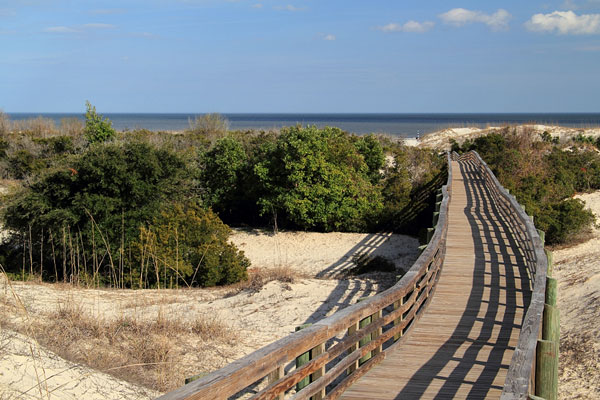 Wooden Walkway - Cumberland Island National Seashore
Links
Access Georgia Government
- http://www.georgia.gov/
Atlanta is the state capital of Georgia. Learn about the state government agencies, operations, and services. Find information about living, working, and traveling in the State of Georgia.
Emory University
- http://www.emory.edu/
Emory University, located in Atlanta, Georgia, was founded in 1836 by a group of Methodists. There are 12,000 students, graduate and undergraduate, and 3200 faculty. Besides arts and sciences, Emory has a medical school, nursing school, schools of theology and law, and a business school. Information about Emory, visiting the school, and applying are on the website.
(GA Education)
Georgia Cities
- https://www.city-maps.us/georgia.htm
This alphabetically-arranged list of major Georgia cities provides convenient access to each city's interactive map, current weather conditions, and demographic information.
Georgia Institute of Technology
- http://gatech.edu/
Georgia Tech, located in Atlanta, was founded in 1885. In 1961, it was the first university in the Deep South to admit African-American students without a court order. Today there are more than 16,000 students enrolled in a focused, technologically-based education. The school has separate schools in Computing, Architecture, Engineering, Management, Arts & Sciences, and Science.
(GA Education)
Georgia State Maps
- https://www.georgia-map.org/
Learn about Georgia's geography, landforms, cities, and transportation system. View detailed highway maps, relief maps, and topographic maps of Georgia.
Georgia Travel Agencies
- https://travel-agents.regionaldirectory.us/georgia.htm
Directory of travel agencies and travel reservation services in the State of Georgia. Each travel agent entry includes contact information and County name, based on its zip code.
(GA Travel)
This is the Georgia subcategory of the US States category. Our editors have reviewed these web pages and placed them on this Georgia page.