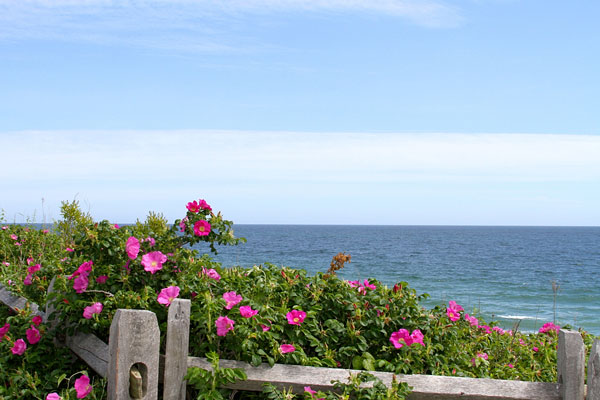 Wild Beach Roses - Cape Cod National Seashore
Links
Boston University
- http://www.bu.edu/
A private research and teaching University founded in 1869, BU has admitted students of both sexes, and every religion and race from the beginning. There are over 31,000 students enrolled at BU and a faculty of 3812.
(MA Education)
Commonwealth of Massachusetts
- http://www.mass.gov/
The capital of Massachusetts is Boston. Learn about the Massachusetts commonwealth government, including its agencies and operations. Read about living and working in the Bay State, and find Massachusetts travel and tourism information.
Harvard University
- http://www.harvard.edu/
Founded in 1636, Harvard is the oldest institution of higher education in the United States. Located in Cambridge, Massachusetts, it is highly selective school. Harvard has had many distinguished graduates including seven presidents. There are about 2700 faculty members, 6700 undergraduates, and 12,400 graduate students. Radcliffe College became part of Harvard in 1999.
(MA Education)
Harvard University Faculty of Arts and Sciences
- http://www.fas.harvard.edu/
FAS encompasses Harvard College, the Graduate School of Arts and Sciences, the School of Engineering and Applied Sciences, and the Division of Continuing Education. The website describes the museums and institutes also connected to FAS. FAS receives over 22,000 applications a year and enrolls about 1600. 64% of new students are from public schools. Much more information about FAS on the website.
(MA Education)
Massachusetts Cities
- https://www.city-maps.us/massachusetts.htm
This alphabetically-arranged list of major Massachusetts cities provides convenient access to each city's interactive map, current weather conditions, and demographic information.
Massachusetts Commonwealth Maps
- https://www.massachusetts-map.org/
Learn about the geography and natural features of Massachusetts, including Cape Cod, Nantucket Island, and the Berkshires. Read about its cities and airports. View detailed highway maps, relief maps, and topographical maps of Massachusetts.
Massachusetts Institute of Technology
- http://www.mit.edu/
MIT, located in Cambridge, Massachusetts, is one of the top schools of science and technology in the world. It also houses the Sloan School of Management and a School of Architecture and City Planning. There are 4000 undergraduates and 6000 graduate students with a faculty of approximately 1000.
(MA Education)
Massachusetts Travel Agencies
- https://travel-agents.regionaldirectory.us/massachusetts.htm
Directory of travel agencies and travel reservation services in the Commonwealth of Massachusetts. Each travel agent entry includes contact information and County name, based on its zip code.
(MA Travel)
Massport
- http://www.massport.com/
This is the website for the Massachusetts Port Authority, an independent public agency, which oversees Logan Airport, Hanscom Field, Worcester Airport, The Tobin Bridge, and the Port of Boston. The tunnels and turnpike are not under their jurisdiction, nor did they have any responsibility for the Big Dig. The website contains news, information about projects that could impact travel, and more.
Wellesley College
- http://www.wellesley.edu/
Wellesley College, located in Wellesley, Massachusetts, was founded in 1870 as a women's college and remains so today. Wellesley is a small, highly selective school with an enrollment of about 2,300 students. Wellesley has many noted alumnae such as Hillary Rodham Clinton and Madam Chaing Kai-Shek. More information about the school, visiting, and applying on the website.
(MA Education)
This is the Massachusetts subcategory of the US States category. Our editors have reviewed these web pages and placed them on this Massachusetts page.