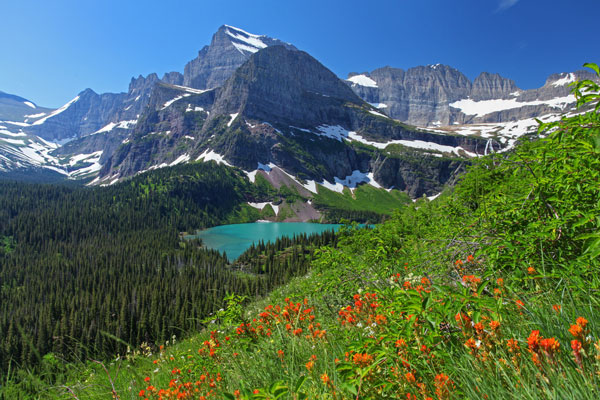 Mount Grinnell - Glacier National Park
Links
Montana Cities
- https://www.city-maps.us/montana.htm
This alphabetically-arranged list of major Montana cities provides convenient access to each city's interactive map, current weather conditions, and demographic information.
Montana Official State Website
- http://www.mt.gov/
Montana's state capital is Helena. Learn about the Montana state government, including its departments and operations. Find Montana travel and tourism information, and read about living and working in the Treasure State.
Montana State Maps
- https://www.montana-map.org/
Read about the geography and natural topography of Montana, as well as its cities, airports, and highways. View the detailed road maps, relief maps, and topo maps of Montana.
Montana State University
- http://www.montana.edu/
MSU, located in Bozeman, was founded in 1893. It is a part of the Montana State University system. In Athletics, MSU plays with the Big Sky Conference and NCAA-I. There are roughly 13,000 students and 826 faculty. MSU has recently been added to the Carnegie Foundation's list of top-tier research institutions. MSU has a large agricultural school and a school of nursing, among its offerings.
(MT Education)
Montana Travel Agencies
- https://travel-agents.regionaldirectory.us/montana.htm
Directory of travel agencies and travel reservation services in the State of Montana. Each travel agent entry includes contact information and County name, based on its zip code.
(MT Travel)
University of Montana
- http://www.umt.edu/
The University of Montana, founded in 1893, is located in Missoula. It is part of the Montana University system. The total enrollment is about 14,000, and there are almost 1000 faculty members. Besides the College of Arts and Sciences, UM offers graduate programs in journalism, law, pharmacy, physical therapy, social work and more. Users can find out about visiting and applying on the website.
(MT Education)
This is the Montana subcategory of the US States category. Our editors have reviewed these web pages and placed them on this Montana page.