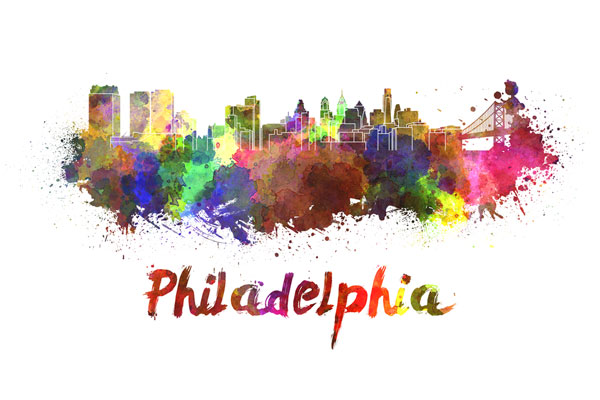 Philadelphia Skyline - Watercolor Painting
Links
City of Philadelphia
- http://www.phila.gov/
This official web site for the City of Philadelphia has convenient information about city departments and operations. Learn about the services offered to residents, visitors, and businesses in Philadelphia, Pennsylvania.
Philadelphia Convention and Visitors Bureau
- http://www.discoverphl.com/
Philadelphia is the largest city in the Commonwealth of Pennsylvania, the second largest city on the East Coast of the USA, and the fifth-most-populous city in the USA. The Philadelphia Convention & Visitors Bureau (PHLCVB) is the official Tourism Promotion Agency for the City of Philadelphia globally and the primary sales and marketing agency for the Pennsylvania Convention Center.
Philadelphia Information Guide and Maps`
- https://www.regionaldirectory.us/pa/cities/philadelphia-pennsylvania.htm
This Philadelphia information page includes census data and interactive city maps plus a directory of categorized product and service providers in the city of Philadelphia, Pennsylvania.
Philadelphia Map and City Guide
- https://www.philadelphia-map.com/
View the interactive map of Philadelphia, Pennsylvania; learn about the city of brotherly love's geography and history; and read about travel destinations and tourist attractions in the City of Philadelphia.
Philadelphia News Reports
- https://www.local-news.us/philadelphia.php
This Philadelphia news page comprises recent news headlines, summaries, and article links about the city of Philadelphia, Pennsylvania, drawn from a cross section of news sources.
Philly.com - Philadelphia News
- http://www.philly.com/
Published by the editors of the Philadelphia Inquirer and the Philadelphia Daily News, this online portal features editorial and advertising content that is intended for a Philadelphia, Pennsylvania audience. Sections include News, Sports, Entertainment, Business, Food, Lifestyle, Health, and Marketplace.
This is the Philadelphia subcategory of the US Cities category. Our editors have reviewed these web pages and placed them on this Philadelphia page.