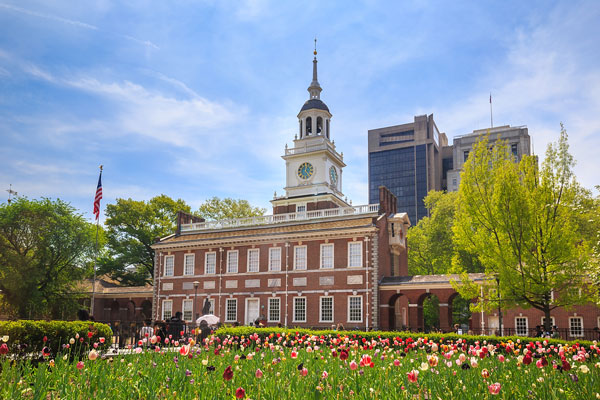 Independence Hall - Independence National Historical Park
Links
Bucknell University
- http://www.bucknell.edu/
Bucknell, located in Lewisburg, Pennsylvania, was founded in 1846. Bucknell has 3400 undergraduates and 150 graduate students. Aside from an undergraduate liberal arts program, Bucknell offers professional programs in engineering, business, education, and music. The website contains information about the school, visiting, and applying.
(PA Education)
Carnegie Mellon University
- http://www.cmu.edu/
CMU, located in Pittsburgh, Pennsylvania, is a private University with 10,000 students and 4,000 faculty. It was established in 1900 and named for Andrew Carnegie, the philanthropist who came from Pittsburgh. The school is well known for its technology departments and drama school. In Sports it has 17 Division III sports teams.
(PA Education)
Lehigh University
- http://www.lehigh.edu/
Lehigh, located in Bethlehem, Pennsylvania, was founded in 1865. There are approximately 4500 undergraduates, 2000 graduate students, and 614 faculty members. LeHigh offers a BS-MD program with Drexel University, BS-DDS with UPenn, and BS-OD program with SUNY College of Optometry. There are fraternities, sororities and 25 Division I sports. Information about applying and visiting on the website.
(PA Education)
PA PowerPort
- http://www.state.pa.us/
Harrisburg is Pennsylvania's state capital city. Learn about Pennsylvania state government operations and services. Browse the Pennsylvania travel and tourism information, and read about living and working in the Keystone State.
Penn State University
- http://www.psu.edu/
Penn State, founded in 1855, is located in State College, Pennsylvania. It is the State-related, land-grant University with 24 campuses. The main campus has almost 37,000 undergraduates and 6300 graduate students. The school participates in The Big Ten Conference and NCAA Division 1-A for most sports.
(PA Education)
Pennsylvania Cities
- https://www.city-maps.us/pennsylvania.htm
This alphabetically-arranged list of major Pennsylvania cities provides convenient access to each city's interactive map, current weather conditions, and demographic information.
Pennsylvania Commonwealth Maps
- https://www.pennsylvania-map.org/
Learn about Pennsylvania's geography, history, and natural features, as well as its cities, roads, and airports. View detailed road maps, relief maps, and topo maps of Pennsylvania and its surroundings.
Pennsylvania Travel Agencies
- https://travel-agents.regionaldirectory.us/pennsylvania.htm
Directory of travel agencies and travel reservation services in the Commonwealth of Pennsylvania. Each travel agent entry includes contact information and County name, based on its zip code.
(PA Travel)
Post-Gazette NOW
- http://www.post-gazette.com/
This is the website for the Pittsburgh Post-Gazette. The site contains breaking news, international and local news, weather, neighborhoods, sports, living, opinions, obituaries, classifieds and everything else that is contained in the printed newspaper. There are also links to places where viewers can send in news stories and post photographs.
University of Pennsylvania
- http://www.upenn.edu/
Penn is a highly selective, private, ivy league university, located in Philadelphia. Penn has nearly 10,000 students and 4,200 faculty members. Besides the School of Arts and Sciences, Penn is home to the Wharton School of Business, a Law School, a Medical School, a Veterinary School, a Nursing School, and the Annenberg School of Communications.
(PA Education)
University of Pittsburgh
- http://www.pitt.edu/
The University was founded in 1787 as a small private school called Pittsburgh Academy. It became part of the State system in 1966. There are approximately 34,000 students. It is also home to the University of Pittsburgh Press, a well-known academic publisher.
(PA Education)
This is the Pennsylvania subcategory of the US States category. Our editors have reviewed these web pages and placed them on this Pennsylvania page.